Evening guys,
Since posting my original Z upgrade I wanted to improve it (@TommyG showed me up

) From there I decided to learn how to use fusion a bit better. To cut a long story short, I have made a revised design of the linear Z axis for the shapeoko and remove the confusion behind all the designs floating in the original topic.
Now there was nothing wrong with the first design but this is heavy duty… It's not as pretty as Tommy's design but functionally it should be spot on.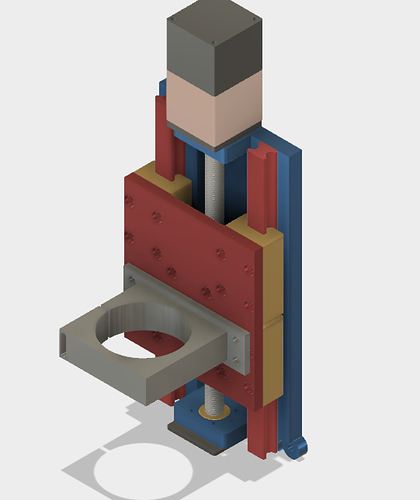 Benefits include
It uses HGH20/HGW20 sliders - more ridged and smoother operation. longer lasting and less flex.
There are less parts to make - down to 5.
It's simpler
I removed the confusing upgrade opps later for X axis
You should get 140cm of travel
Tram though front mounted screws and eccentric nuts
Now there are a few things worth noting;
It's slightly bigger and thicker than my original design - this will generally improve it's smoothness over the X
The plans will require you to add holes for your HGG20 rails - I don't have a set to hand to work from - I can walk you though this
There is some two sided milling
You will need to tap some threads
Because I haven't physically made the design yet, you might find some of the holes slightly too small after milling - I've assumed M5, but some might need to be made into M6.
I haven't added any tool paths - I have a 2.2kw spindle and the speeds I put in were not suitable for many.
Shopping list include's:
Please note, I don't work with any of those sellers, I just pulled examples from ali express. Buy things from where-ever you like

Here is a link to the fusion files: