I thought I would post a cautionary tale…
T6 6061 651 4mm sheet is not wood!
I was going to square up a small piece I had kicking around. Set the job up and taking the feed rate and speed from the tool library in CC, I was ready to start. I changed the step down to a smaller .250. My thinking was how much kinder it would be to the tool. I was taking 1mm off the size all around
It was on the 6th pass that I knew things had gone awry. The change in the cutter tone from nice single pitch and regular to something tortured sounding had let me know that it would not be a happy experience.
I stopped the machine and found out that aluminium sheet gets hot. Now I know why they use it as a heat sink. Anyway, the chips have welded themselves comprehensively to my nice blunt cutter and I binned it. I captured a couple of images for posterity and my idiot's scrapbook. These horrific images serve to underline my inept bumbling and general numplitude. You can be sure that the lesson is leaned.
Be kind… laugh quietly behind your hands.

Not much accuracy from this cutter.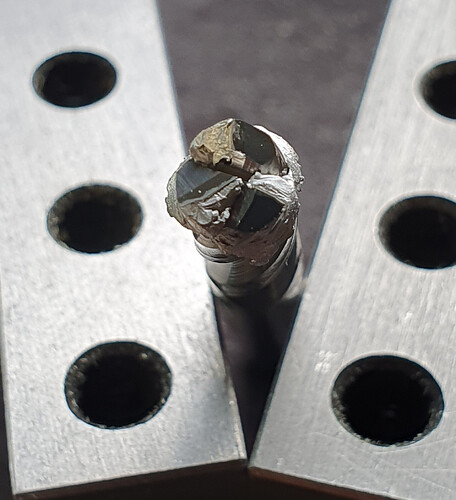 Comprehensively F*%£@D!!!