Hello all… I hope to gain an insight into how the speeds and feeds are specified for each new cutter. I have about 35 cutters to add to the library so a couple of dumb questions at this end of the process will help me further along the line.
The cutter I have started to add is this one:
https://www.trenddirectuk.com/12-03x1-4tc?___SID=U
The library addition is this one: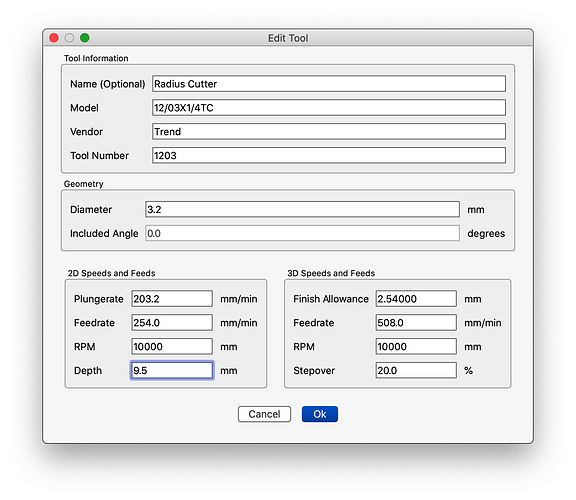 Under the 2D column
Question 1. The included angle field does not accept any input - am I missing something?
Question 2. How are the Plungerate and Feedrate calculated?
Question 3. The cutter can be used at up to 28,000 RPM - how is this entry decided upon?
Under the 3D column
Question 4. Please explain the finish allowance to me
I am working on a small piece that has shallow slots cut 2mm deep. I can see how to draw them, position them and lay them out in CC. I wonder about the 3D aspect of adding a graduated end to each channel. The sides would be perpendicular but graduating the ends for easy removal of tiny pieces from the channel would be a nice refinement.
I have the free version of CC Pro and I can see that the round shape could be specified and added to the toolpath. The small radius cutter I am adding to the library would be used to make the 2mm deep slots as a single pocket and the radius section is only about 1mm deep. Am I trying to use the wrong method and if not, what do I need to consider?
Any assistance for this beginner would be greatly appreciated. I have a project under way and need to add this cutter and the others I bought can be added as they are needed.