Hey all, thanks for taking time to read this and hope to give me some comments. I have the XXL and just put it together, very carefully with emotion (frustration, happiness, joy, sadness) as the instructions could be quite a bit better, but i got it done. I squared the machine as per instructions, attempted the Hello World and had a few things happen maybe you can help me out to clear it up.
After homing the machine and bringing to front of project, lowering pen to just barely above the paper, zero out, run program…the pen jumped up about 1/4 inch and began doing the program above the paper.

Cancel, rehome, repeat…pushed sharpie into paper a little hard and tip smashed but the program seemed to run correctly but really thick edges.

New sharpie, repeat homing and zero sharpie just touching the paper but not smashing and it ran the program but the middle of the Shapeoko did not get drawn in.
So my 2 issues may be related here, waste board and rails all are level (within tolerance) as i have the feet higher on one side to make up difference in floor slope.
1st, why did machine rise up after initial zero and draw in the air above the paper?
2nd, could my waste board be the problem or the piece of cardboard i had under instead of flat hard surface? I figured the cardboard cushion would be good for the sharpie but maybe not.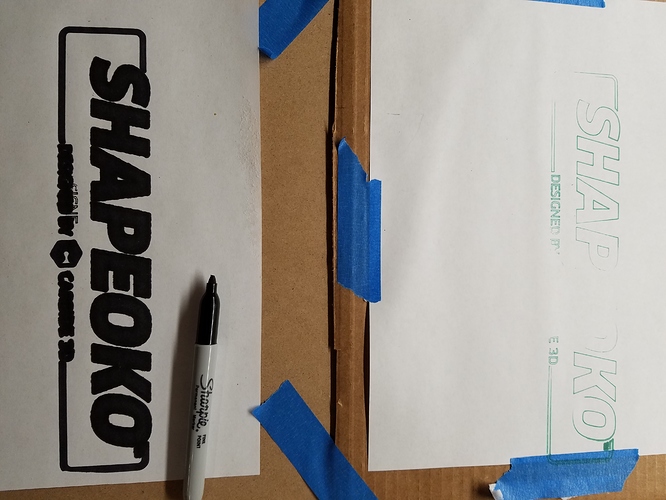 I am trying to get all this down prior to putting sharp things in the router. Below is my video of the Hello World.
https://www.youtube.com/channel/UC3OSoPrt1t6WezTzkBToptw
Thanks in advance!