I've recently been running longer jobs (10+) on my Nomad and have had to find some strategies for recovering from CM crashes during the run. This could be partially due to my hardware, I'm running the mill using a Surface Pro 3, which works great when on battery power but always crashes when I plug in the power adapter. It will also crash one to two hours into a job if I leave it plugged in.
I know that @mbellon mentioned that separating the outlet used to power your computer and your mill is a good idea. I've done that but I haven't taken the next step to connect the computer to a UPS. Mark, can you comment on the model of UPS you use, what to look for in a good UPS and if you've had any crashes when using your UPS?
I've been able to run for 7 hours continuously without trouble when running from battery on my tablet. The two best strategies I've found for continuing a job after a crash are:
1.) Write out all tool paths from Meshcam separately (roughing, finishing, waterline, pencil) so that I work with them independently.
2.) If a crash occurs mid-job, measure the depth of stock remaining and rewrite the tool path with the MeshCAM stock defined to this amount. This will leave the completed geometry sticking out above the stock so the retract height must be set correctly above the geometry to avoid hitting it while jogging.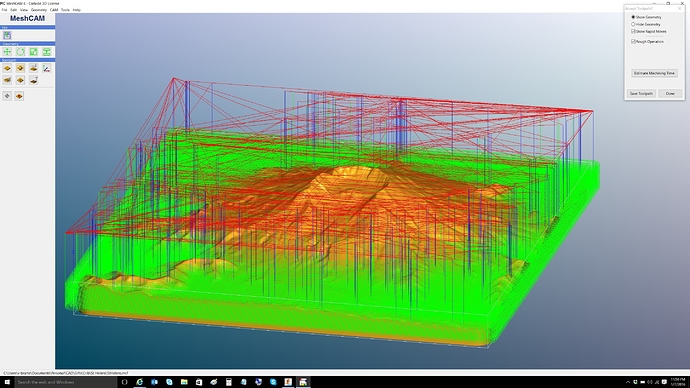 I read @FlatBaller mention somewhere that he's been able to hand edit the g-code to recover from such crashes. This would save time as well but I haven't been brave enough to try it after spending so much time running a job. More strategies on this topic would be great to hear and hopefully we can avoid wasting stock due to this issue once we have defined the tools needed to deal with it.