Good day!
My Issue -
I am using the Bitzero V2 to zero the Shapeoko to my stock, but cuts in the stock are not perpendicular or parallel to the edges of the stock when I expect them to be.
Background -
I got my Shapeoko 3XL last December and have been slowly getting into CNC. I managed to get a Bitzero V2 almost right away and I've been using it the whole time. I have done all of the calibration tasks including creating and surfacing a spoil-board with inserts and getting the router almost perfectly perpendicular to the spoil-board.
Today I have been trying to cut a shape into the side of a piece of stock, where the stock is my finished part. What I am seeing is that the cuts are not perpendicular / parallel to the stock.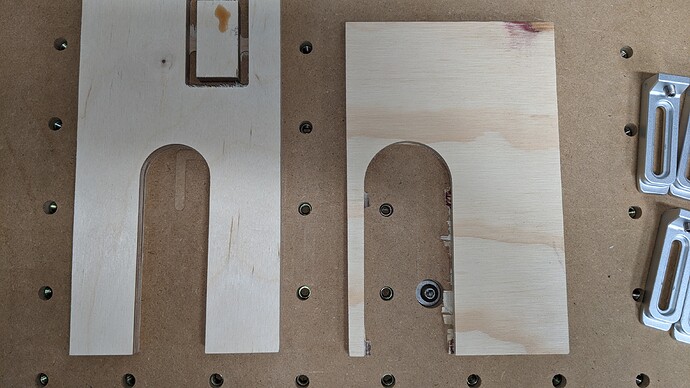 If you look closely at the 'door' on the right, the left edge of the door is leaning to the right - the distance between the side of the stock and the edge of the door is smaller at the bottom then it is at the top. The same thing is true for the piece on the left, it is just less pronounced.
Method 1 - don't touch the Bitzero when probing.
I secure the stock to the spoil-board and place the Bitzero snug against the bottom left of the stock. Using the precision ground rod that came with the Bitzero I run the XYZ probe. When the probing is taking place I can see the Bitzero block move slightly when the router prob touches the inside of the circle, should that be happening? Doing this method produced the cut on the right - the left edge deviates by 2mm to the right over ~75mm in height.
Method 2 - hold the Bitzero as tight as possible when probing.
Same setup as before but this time I hold the Bitzero with my fingers to try and stop it from moving when the router probe touches inside the circle. This produced the cut on the left - where the left edge deviated by only 1mm over the same height (so an improvement, but 1mm is still a lot over such a short distance.
Am I using the Bitzero correctly? Is it correct to assume that the Bitzero will virtually square the stock to the gcode?
Other considerations -
My stock is square, I measured it against more than one right angle (I also have a picture for proof

). The Bitzero fits snugly in the corner with no play at all.
Thanks so much for reading, any suggestions would be great!