Hmm, CCP has started to drash on me again.
It's done it a couple of times when opening a file, when a file is already open (a 'short cut' to close one file and then opening the other).
Screenshot below: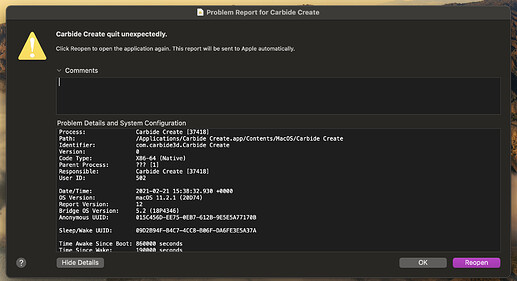 The file that's already open hasn't been edited in any way, just opened to have a quick look, before opening the subsequent file. This happens both with File:New… and File:Open…
This is the file I was able to open to look at…
Wasteboard Complete v2 32x32.c2d (643.8 KB)
…and this is the file I tried to open when the crash happened…
Wasteboard Complete - Mount v2.c2d (25.7 KB)
…or when I click File:New.
It's happening every time now, but I'll try another file after I reboot my Mac.
I'm using CCP Built 515, Built on 2021-01-18 on an iMac Pro with a 3.2 GHz 8-Core Intel Xeon W processor, 64 GB 2666 MHz DDR4 RAM and a Radeon Pro Vega 56 8 GB video card, running Big Sur Version 11.2.1
Any ideas, please?
Thank you
UPDATE: I think it might be the file. I've opened, edited and saved it, in CC Pro, but opening a new file or a different file and the problem persists.
I updated the file earlier today to change the end mill in a toolpath, but that's all. I haven't run the GCode from it because the file is my new wasteboard design, when my current one becomes unviable.