Hi All! New to the community forums, a few IG accounts pointed me to this contest. I've made a decent amount of maps in the past 6 months and it is slowly becoming "my thing". Here is a map of Lake Cordry in Indiana that I did as a retirement gift. It is 34"x26" with a custom walnut frame.
TIPS
I usually seal the top surface with poly before carving. After carving it is super easy to stain all the exposed carved areas. A small amount of stain will still soak into the top, but that can be a good thing depending on the look. You can also sand after sanding if you want a more "clean wood" look.
For large maps, split your carve into sections. It will keep you router from going all the way across the map from cut to cut. Resetting Z zero for each section will help if the wood is not completely flat.
Lake Cordry.c2d (1.3 MB)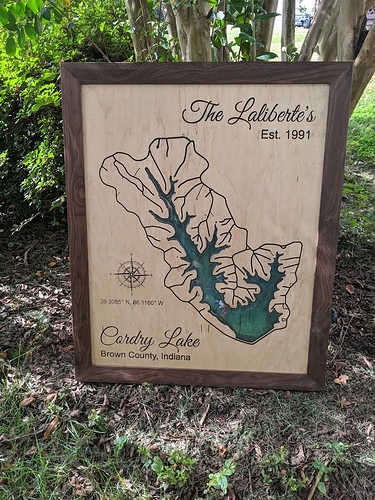 This was the first map I ever made. I have quite a few videos on my IG @timberfortress if you want to see some of the process and/or other maps. Both tips above were really important for this super detailed map of Middle Earth:
Middle Earth Map