(bump up-- two days to go)
there was some cool stuff this time for sure. but man, bubbydogs second entry, the candelabra-like thing is such a weird object.
it's like something you'd find inside Liberace's house if Liberace lived inside a Quake level. so for originality and technical merit, I've gotta give it to him again.
'tis the last day to vote !
For a minute there I thought Fischer was going to take it but Stu with the comeback out of nowhere!! If Stu had a 3rd entry he could have possibly come in 1st, 2nd and 3rd lol!
Close one, good luck guys!!
Not to kill the (awesome!) voting momentum, but just as a reminder:
In other words, let's keep this in the community, please don't ask friends to come and create an account on the forum hours before the deadline just to be able to vote, I would remove those from the tally.
Yeah I can imagine some of my votes might get removed. I had friends, whom I didn't ask to do so, sign up and vote.
@Julien @Jorge
Are we still sending our C3D log stuff to C3D? My wife didn't like how it fit with her style in any of the spots I tried to put it.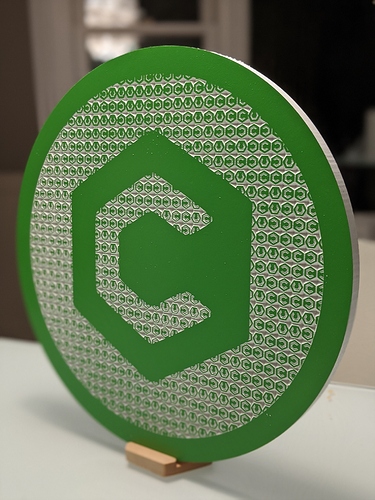 I think it would be great !
They would look so much better at C3D's than at the bottom of a "stuff I made but my wife won't let me put them in the living room" box in the garage

Hahaha… Oh boy I can relate to this! My fiance is very supportive of my creativity, but I am learning that a lot of things I make don't belong in the house

Just let her know… it could be worse.
"What's that on the counter… oh I just had some really cupped walnut boards, they are flattening out"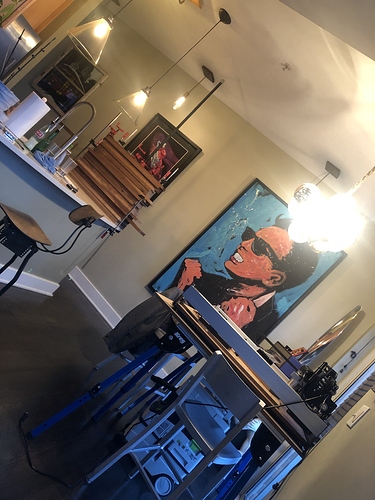 HAHA, I am also a member of the Shapeoko on the kitchen table club, however I am building a bench with a enclosure for a different location!
This actually made me laugh out loud haha, this has been my life the last few years. luckily for me we moved to a house with a workshop so the shapeoko is out of the kitchen now
Yeah, that's where I first put together my Shapeoko 1.
Time is up ! First I would like to thank all participants again for the incredible entries. A month ago I was slightly worried there would not be a lot of enthusiasm about the texture theme, but now look at the entries! Very inspiring, and I for one will be trying several of the techniques/ideas for my own projects.
I went through the results:
Congrats @stutaylo for winning first place ! Awesome bowl and overall enthusiasm.
The hard choice was deciding who gets second place. I probably should have stated more explicitly at the very beginning that votes had to be cast by legit members of the community, sorry if this was not crystal clear in the rules, but I want these challenges to stay fun and fair and local. So I stick to my earlier words, and I had to remove 3 votes from @JFischer911 entry.
Therefore second place goes to @MarkDGaal, congrats! I'm sure that entry and other posts you made on the forum around the ripple theme have inspired many, and we'll see a lot of variants of this idea in the near future.
Finally, since I get to pick third place/jury's prize, it goes to @BubbyDog. I have to say I was very impressed with the level of effort, dedication, and quality/originality of your entries.
@Jorge will be in touch with the winners.
Challenge #3 was epic, see you all in challenge #4, coming up soon!
Congratulations to Stu, and MarkDGaal! Sorry to JFischer, the D&D box is very nice you do great work!
I have had so much fun on these contests, thank you Julien and Carbide 3D for putting them together.
Also thank you for the vote of confidence Julien, it means a lot to me! I think the universe is telling me to up my cnc game, I am just getting started!!
Can not wait for the next one!
Thank you so much to everyone that voted and entered, it feels like people are totally upping their game each time with these challenges, its so great to see people trying new techniques, and pushing their limits

Thankyou to those that voted for me too, it means a lot that you liked what I came up with!
Congratulations to @MarkDGaal and @BubbyDog, both your entries are awesome and have both made me try some new techniques.
Thanks to @Julien for the work you've put in, and Carbide3D for supporting the challenge and putting up the loot!
Well this was nice to wake up to, echoing the comments of @stutaylo and @BubbyDog I really enjoyed this challenge and how it got the creativity flowing. Looking forward to inspiring and being inspired by others.
Thanks @BubbyDog! You're submission deserved judges choice, for sure. It was really original and now I have to try an emulate how cleanly it came right off the machine.
I just noticed that you're only about an hour and a half away from me. I think it'd be cool to find a group of local Shapeoko users and have a meet up sometime. My shop's open to all.
Sounds great, I am hoping to get multiple cnc machines soon so we can do a cnc lan party lol. Bring your own materials!