Hello everyone,
I was sitting on the fence about putting the community challenges on hold during these troubled times, but I figured that we could still use this opportunity to take a break from the news, and have some fun in the shop (hopefully, many among you still have access to their machines)
I'd like to thank you again for the great entries and 50+ voters in community challenge #5.
Challenge #6 is: Creative Joinery!
The goal is to make joints that look fancy or interesting/unusual.
Many of you may not have a vertical workholding setup in place at the front of the machine, so the joinery does not have to be between two parts at 90°, it can be between pieces in the same plane. Think interlocking 2D pieces, using inlays as joints, etc…
The rules for this sixth challenge are:
use a Shapeoko or Nomad
submit your entry in this thread:

It must include CNCed joints
include the associated design file(s) and tell us about the steps you followed to create it.

you can post multiple entries if you want.
timeline:

deadline is set to April 5th, midnight PST
there will then be 7 days for voting.

voting will be open to legit community members only, and the jury reserves the right to remove votes from "outsiders", and will also break any tie.
The prizes for this challenge are sets of ZrN-coated endmills from the Carbide3D store, and mainly single-flute ones (you'll love them if you intend to start cutting aluminium)
And as usual, some Carbide3D swag: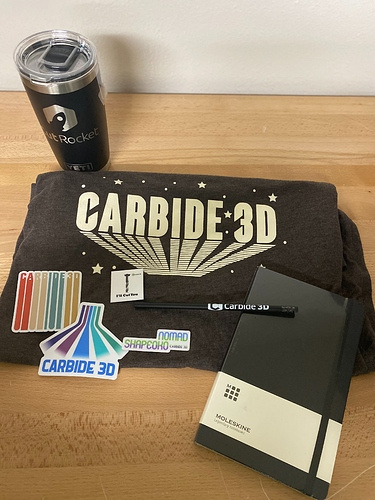 (note that it may take a while to get the prizes to you when this is over, depending on the situation at that time)
Stay safe, have fun, and be creative !