Hey guys hope this is right place. Since getting my machine I have created a few small project/training cuts (mounting holes for t-track inserts, bit holder, couple of square and circle test cuts, etc…) but nothing super fancy. Planning on being a super basic "guy with a CNC" and making some trays for some family members for Christmas. Designed one for my house first. I drew it up and I believe setup up all the paths in an order that makes sense but had a few questions before I hit load and run. OK let's do this…
So here are my paths and my preview. I know the preview is not super accurate especially when adding bits that arent in the library (amana 45982 tray bit and amana 45771 30* v engraver). It will be going into some ambrosia maple my buddy gave me (is that considered hard or soft?). The way I have it set up is like this
using a carbide 201 to hog out all the middle stuff using a pocket path down .7in.
switch to the amana tray bit and do a contour pass (no offset) along the same perimeter down to .75in.
same bit run the pocket path from step one but from .7in down to .75in .
switch to engrave bit to do artwork in center from .75in down to 1.05in.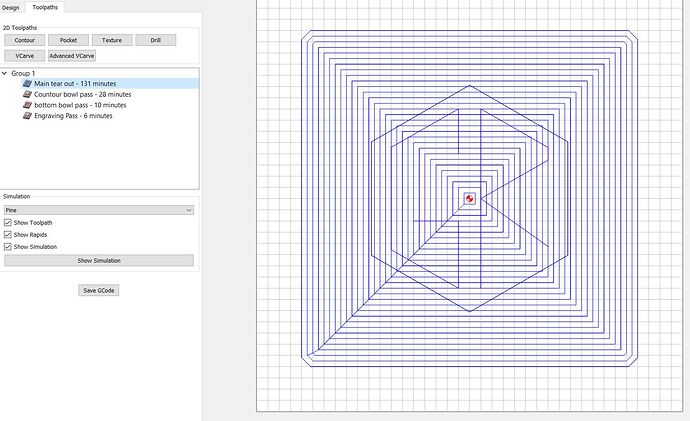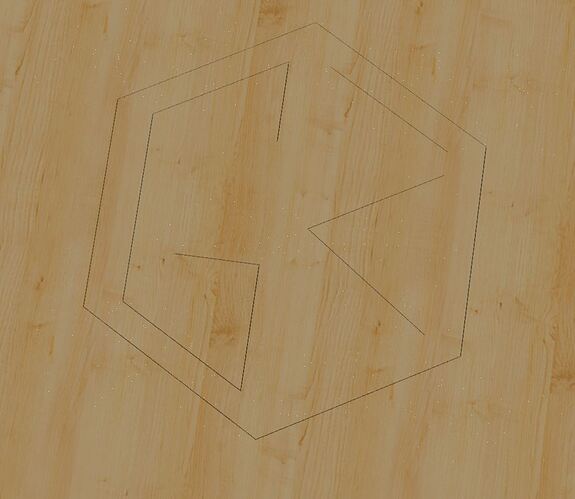 So here are my questions:
Since I am changing bits, and don't have a bit setter, I will have to save each path that uses a different bit as a separate g code file and rezero after bit changes correct? (or was that just older versions of CC/CM)
It's showing a little over 2 hours just to clear the middle using the stock settings. Is this because those settings are fairly conservative? could I bump the depth or feed rate up and be safe? I know this is a vague question and a lot of variables but just curious. (other than that what are some good clearing bits for remove lots of material quick)
Is there a way in CC to change the direction of the toolpath from moving around the shape to across the shape? Would like the third toolpath to go across the bottom of the tray side to side instead of around. I have seen this with other way more involved programs but I am not trying to learn all of that right now…
Lastly, for some reason the preview isn't showing the vertical sections of the "R". I am guessing since the vertical parts of the "G" show up this is just an issue with the preview, or I entered the tool properties wrong. Any ideas on that one?
Do you have any suggestions, cautions, or anything at all before I do this thing?
Apologies for all the reading, but thanks for taking the time! I have read/watched so many articles/threads/videos over the past month or so trying to prepare for this. A lot of the stuff has blended together in my head so I may have this all wrong and if so please feel free to me straight!
Here are the files since I sometimes see people ask for them.
Catch Tray.c2d (24.8 KB)
Catch Tray.nc (36.8 KB)