So I am working on milling some Brass (360) into some branding irons. This was my first attempt at machining brass after working for 6 months successfully in wood and making clamps from aluminum. Well, I finally broke my first mills. I was using a .25" 4 flute TiN coated carbide mill (Kyocera #39131 purchased from McMaster Carr) to do the roughing around the general shape of the irons. I kept getting chatter in only one corner. I tried decreasing the feed rate manually (a nice feature in the newer CM builds!) and increasing the RPM slighly, but still kept getting chatter in one small spot. Everywhere else it was cutting good. Feeds and speeds were generated by G-wizard and were really conservative (25% tortoise / rabbit):
Feed: 34
Plunge: 9
RPM: 14000
DOC: .035" (optimized by G-wizard)
Climb milling was set in the toolpath (this may be the problem I suspect, but G-wizard recommended climb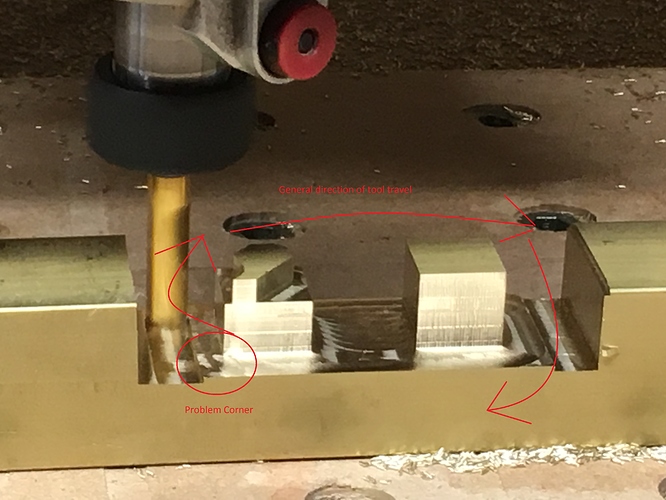 )
I was using WD-40 as a cutting lube. My V-wheels are all tight (checked before hand) and belt tightness seems fine. Machine is as square and trammed as I could get it, although its probably time to re-check these.
Eventually, I chipped a tooth off that mill and it banged around a bit before I could hit my emergency stop. Any ideas why I would get the isolated chatter in only one spot and no where else? I also broke a 1/16" mill, but I think that was a gooned up toolpath, so my fault.