I've been working on a project on my S3 XXL involving lots of bit changes. Everything has been going smoothly, but when I get to a step involving bit #102 (standard 1/8" endmill), it consistently cuts 0.5 mm (20 thousandths) too deep for every Z motion. That is, instead of the first cut being at 1.14, it's at roughly 1.6-1.7 mm, and the last pass is gouging my waste board by 0.5mm.
Things I've checked/tried:
– Rezeroed (several times) both manually and using the continuity probe
– Not losing steps in Z – zero consistently stays where it ought to be
– Collet is tight
– Correct bit is selected in CC
– Correct depths are set for both this toolpath
– Re-measured stock thickness with calipers – 0.125" exactly
– Stock thickness is correct in CC
– G-code is correct: 3 steps down through 1/8" stock – 1.14, 2.29, 3.17 mm (0.045"/stepdown)
– G-code comments acknowledge correct workpiece dimensions
– During the job, Carbide Motion thinks it's at 1.15 mm depth on the first pass, consistent with the g-code
– Created a new carbide create project, created a test pattern and assigned the toolpath, and saw the same result
– Changed bits and tested other cuts. Those are all fine, but when I switch back to #102, my troubles resume.
– Bit #102 library parameters haven't changed, and I'm using stock parameters except that I reduced plunge from 18 in/min to 9
– Z-axis belt hasn't loosened noticeably; it twangs when I pluck it and the router holds its position when I put the weight of my hand on top of it
– Bed is level
– Workpiece top surface (zero) at the cut coordinates is the same as the height/zero where I zeroed the bit
– Checked through half a dozen related forum threads for clues
I'm attaching the .nc file and some screenshots of my settings so you can have a look.
side 2, outline (v2) post.nc (129.6 KB)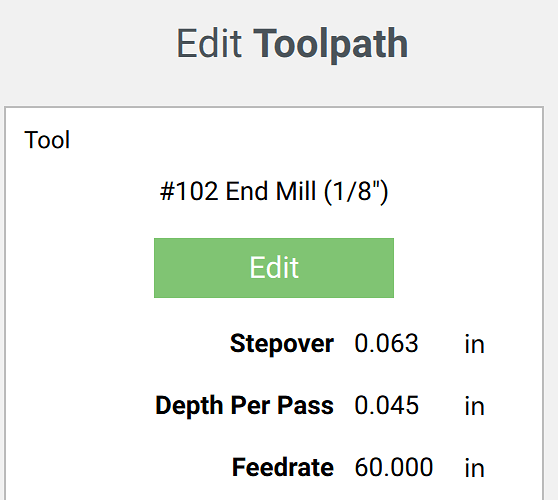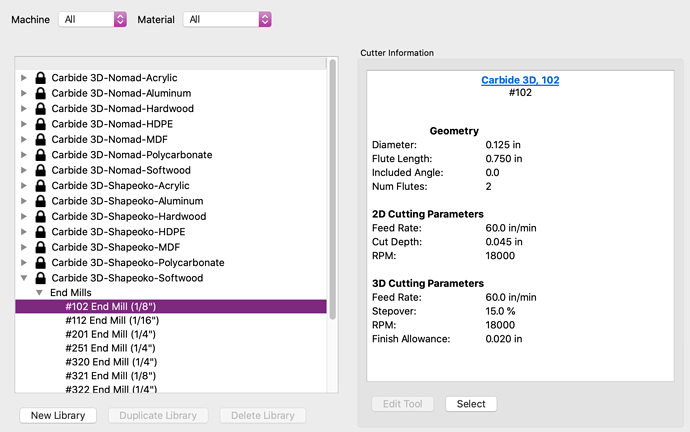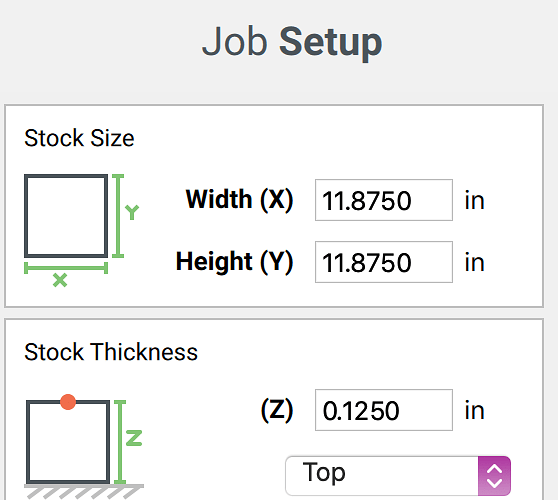 Thanks in advance for thoughts on what to try next. I'm stumped. Hopefully I missed something simple and you all can spot it!