Hopefully a quick question:
I'm trying to figure out how to get perfect dimensions and really nice surface finishes. I'm using the 102-Z endmill on the Nomad.
I've been practicing on a 10mm tall, 8mm diameter cylinder. I'm reasonably happy with the result so far, considering it's the first time I'm doing this. Calipers and a micrometer show ~0.03mm deviation, or a bit over a thou for the Imperial folks.
However I see these diagonal marks on the side: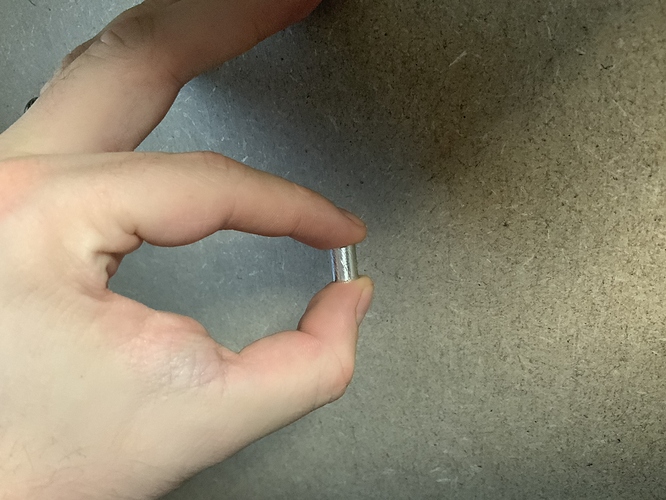 I milled this with Fusion 360:
A 3D adaptive pass was used for roughing: 10kRPM, 0.75mm DOC, 0.3mm optimal load and 750mm/min feed rate with 0.15mm axial and radial stock to leave (though I paused mid-way and measured the cylinder diameter to be 8.25mm with the calipers, so 0.125mm was reality). I set the bottom height to 0.2mm to leave some material to hold the cylinder in place for the finishing pass.
A 2D contour was used for finishing: 10kRPM, 0.2mm stepdown, 750mm/min feed rate.
Can anyone give me suggestions on where they might be coming from? Is it likely a result of vibrations/bad workholding? Feeds and speeds?
I forgot to leave any tabs in the 2D contour and I see some marks on one side where the piece broke off and hit the mill but I don't think that's the reason for the diagonal marks.