Hi Everyone. I am now 3 days into owning a Nomad 3, and I've just joined the forum. I have searched the existing threads but haven't found anything that addresses this question, but apologies in advance if my search should have found something.
I'm trying to engrave text that is about 4mm high onto pre-anodised aluminium plate (from Hammond 1455 enclosures). I'm not after anything fancy, but really the finer the better. It's not clear to me what the work flow is supposed to be. So I entered some sample text in CarbideCreate using fonts like Open Sans, Dotum and Gulim. I made tool paths from this text using the Vcarve tool and the #502 engraver bit at 0.1mm to 0.2mm max depth. I used the speeds and feeds settings built into CarbideCreate for Aluminium and the #502. (The features did not appear in the CarbideCreate simulation). I loaded the tool paths into Carbide Motion and let the Nomad do its thing .
It kind of started out well, but by the 20th letter it looks like the cutter had completely lost its mojo. The top edge whether the anodised surface transitions to bulk metal is a blurred mess and there is aluminium swath stuck down in the channel.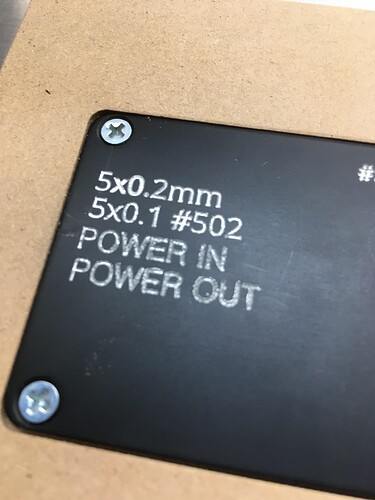 (Not sure that image upload worked – yes it did!).
I realise that the anodizing is hard, but what should I have done?