Today I was milling a piece of metalwork for my pillar drill. The drill had lost its plastic depth stop which was broken within weeks of its arrival. This is a simple enough design created in Affinity Designer. I had opted to keep control over the machining process by enabling each of the four toolpath stages separately from each other and I saved each toolpath as a different .nc file. I figured if anything went wrong, I would find it easier to recover from a process with clear break points.
While cutting the division which I am going to drill for a bolt to provide a clamping force around the quill, the 1/8" bit snapped and ruined my 1/8" collet. Investigating the issue, I found that it was taking a rather too healthy 1.5mm DOC at 50% stepover with a feed rate of 1500mm, a plunge rate of 750 and 18,000 RPM spindle speed. It bravely cut about 3mm deep before giving up the ghost. I had forgotten when creating the toolpath that the feeds and speeds for the slot had needed an adjustment to make the process easier.
Picture of the damaged 1/8" collet. This was after my initial attempts to revive it because it looked so much worse. It had to be persuaded to release the broken piece of endmill with a soft drift and an x-ray machine. It should be obvious why I concluded that using it would not be safe.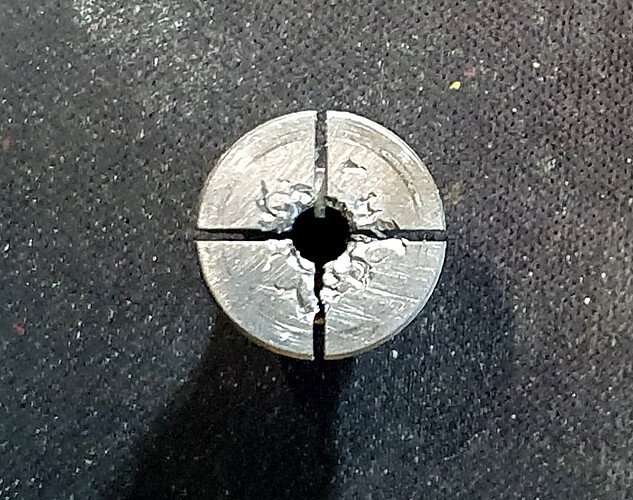 For some reason or another, I had not checked the dimensions of my pattern to cut and missed the mark by a good country mile.
This 6mm thick piece of aluminium stock was easy to cut using all of the stock feeds and speeds in the tool library for aluminium. I found that doubling the feed rate was helpful and the cutters sounded happier.
I used a single flute 1/4" cutter to cut the 8.7mm hole (for tapping M10 x 1.5) and a single flute 1/8th" cutter to cut the clamping slot of 4mm.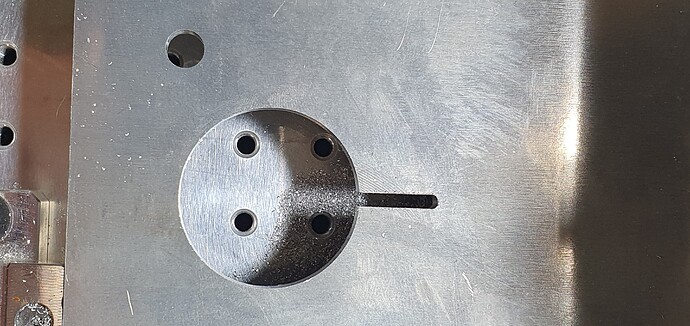 This image depicts the tabs used. I applied 6 x 1mm thick by 3mm wide tabs. They held the piece in place well and they were easy to cut with a small Dremel metal cutting blade at around 15,000 RPM.
It may not be obvious from this image but the small 8.7mm hole at the top of the last picture is likely to break out of the stock when tapped using taper, second and plug taps.
I liked the 5mm wall thickness because it permitted good flexibility when applying a clamping pressure. The quill was a nominal 40mm in diameter and my first idiotic move was not realising that the chuck would need removing. I knew the chuck was a B16 size taper and used a wooden hardwood drift (maple) and a wooden mallet to remove the chuck with one well placed hit. I also remembered to have a soft landing for the chuck to prevent damage to it.
I thought that the nominal 40mm quill diameter would benefit if the part was milled to 40.1mm so that the 4mm clamping gap would close up the loose fit. I was wrong because the actual nominal quill size (while it may have been specified as 40mm) was much nearer to 39.5mm. This meant my loose fit was very loose and my clamp gap was not wide enough to permit a pinch bolt action at my currently milled size. I was happy with the flexibility of the part under clamping load but that was the only bright spot.
With everything remeasured and checked again, I had drawn the design again and will probably machine it tomorrow. more anon…