Edit, solved by following Will's steps + clearing the rail + reverting to an older build
I hadn't used my machine in a little while, but I'm getting back into it.
Just downloaded the latest version of Carbide Motion (Build 551, released March 15), ran a few test cuts - the cuts themselves ran fine outside of a couple small issues with the speed of the machine.
I fine tuned everything, loaded up the actual non-wasteable material I'm using aaaaaand…the depth of cut was extremely shallow (far shallower than the zero that I'd set). I stopped the cut, the SO3 performed its normal action of raising the spindle out of the way. It hit the top of the Z axis and then started traveling back down, despite no command to do so. I immediately cut power to the machine to prevent damage to the endmill. I looked at my laptop to and was greeted with the following error:
"Machine controller restarted unexpectedly and may be in an undefined state" + another error stating "Cycle Aborted"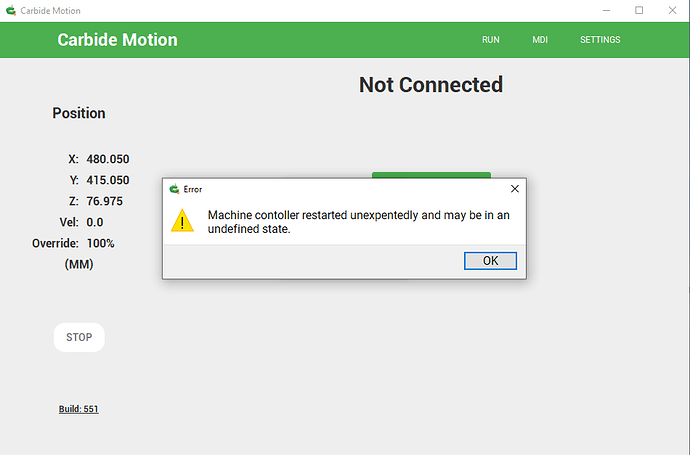 (screenshot taken after I'd disconnected my laptop from the SO3)
When I powered up the machine and ran the initialization process, the same error happened, except this time it was a terrible chattering noise after the machine had translated all the way across the X axis.
Any ideas on what I should do?