Hands down one of the most ambitious Shapeoko projects I've seen shared here. Awesome work, sir.
Rich
You mention using a 1/16 cutter with the makita. What collet are you using? I purchased the ellaire 1/8 & 1/4, they don't appear to sell anything else.
At a guess that would be #112 .0625" Flat Cutter which is a 1/16" endmill w/ a 1/8" shaft which fits in the 1/8" Elaire collet.
EDIT: and for the record, Elaire also sells a 3/16" collet (anyone know of a good source for such endmills) and 4, 6, and 8mm
Thanks! Little embarrassed didn't think of that.
and 1/32…all with 1.8 shanks…
BTW: A good question, really.
Thanks!
Nice selection and pretty good prices. But I still can't locate a 1/16" ZrN coated cutter, this guy stops at 1/8 too (like C3D)
yea i dont see any ZrN coated 1/16… they have TiN and AlTiN 1/16 tho… ill post it here if come across any ZrN
Update: Bad news, Bad news, Good news, Bad news, Good news, Good news on the watch.
It's still running, but the day/date didn't move during the first night (Bad News.)
I found a bent and missing tooth in the drive train (Bad News)
I have a VERY rare movement (less than 1% of the total volume) because it has a Date at the 6 PM position (Good News $$)
There are NO replacement parts to be found anywhere in the world (Bad News)
I did find a replacement movement with a Date at the 3 PM position (Good News)
I have found a way to remove the two dials (Day and Date) and I think I have figured out how to reprint the letters and numbers so that they can be read at the 6 PM position (I think that is really the only difference is the printing position) (Good News)
On the bright side, other than not changing the Day/Date, it keeps GREAT time!
With the skills you have already exhibited I would have thought you could machine up another cog wheel on the Shapeoko! - No I'm not serious.
and I think I have figured out how to reprint the letters and numbers
Sounds like you may have an answer to your dilemma, I hope so after all your work, it would be nice to have everything working.
What is the watch's vintage? Looks like it is pretty early quartz watch technology,
Haha, thanks, I'd rather machine a watch body than have to deal with the tiny components inside. I'm 57, so the eyes, and streadiness of the hands aren't what they used to be. I learned during my trip in Switzerland that there are few watchmakers over 45. At that age they become teachers. Yup, NOW I understand.
I think the watch is about 22-25 years old. Not that old, but I haven't found another like it, and boy I have been searching.
I own LOTS of watches, all makes, and types, from $$$$ to $, and as Ex-NASA engineer I can appreciate the wonderful mechanics of a good wind-up or automatic, but I like the precision of quartz. My best (favorite) watch is a Seiko Solar Watch. NO batteries to change and accurate to (about) 1-2 seconds a month.
Now for the reveal; this watch project was just practice because what I really wanted was to machine a new case for the Seiko Solar out of Gold, 10-14K. I have some 18K watches and that is too soft for my lifestyle (Machinist, Harley guy, haha) So now I start the next journey. I will start with a lost wax casting, and I have found an Ex-NASA guy with the necessary equipment, and I think I have almost enough material (gold), but this one will take me at least a year…so wish me luck.
I have a Seiko solar as my daily driver as well, very similar to the one pictured below: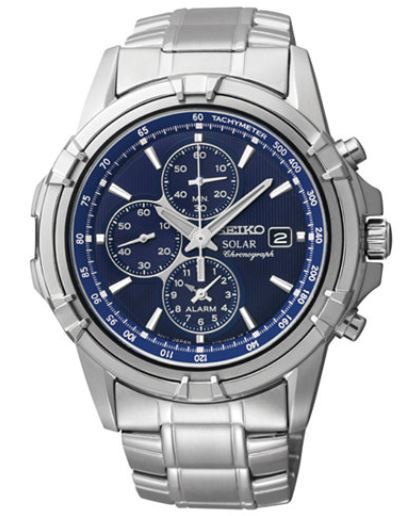 I've been pretty happy with it as well. Would love to see what you do with the case!
Dan
I've always regretted that my father's 27 jewel Seiko had a similar failure (and I haven't been able to find someone locally to replace the part — did come across one guy on the internet who does restorations, but the reality is, it's just too large a watch for my taste (and wrist) — will probably do the restoration and give it to my son as a college graduation gift) — had an inexpensive Seiko quartz which I was very fond of, but it died an untimely death and couldn't afford to replace it at that time. Been wearing a Timex Expedition (and kicking myself for not getting the nifty Ingersoll reproduction face which was offered for a while) for a while now (on my 3rd band — guess I should buy a stainless buckle clasp) and would like to upgrade, but kind of have my heart set on the Ingersoll face version (which I'll likely never see for sale again).
Oh crap, I wear a Timex Expedition, too. And we live near each other, I believe, based on your info on the Shapeoko forum. You probably don't have dobermans, though.
Nope, no Dobermans, though am looking forward to getting a dog once I'm retired (they don't allow dogs at work).
Never forget!
For 2 days I've been chasing a 0.020" error in my X-Axis. After all the preaching you think I'd first check the SET SCREW!!! Well, it wasn't so much loose, as fatigued after 2 years of cutting metal.
The point of the set screw had a nice flat on it allowing (only on a load) to slip. In the picture you can see the small dimple from my drilling check (fool me once).
This fixture is two fold. It'll hold the watch cover still while I engrave the outside and inside as well as a holding fixture to deepen the counterbores another 0.010".
PS I'm also working on my Spotting surface technique
(/uploads/default/original/2X/7/71898a750c7d1ffff34c019a7e1a0726b67de055.JPG)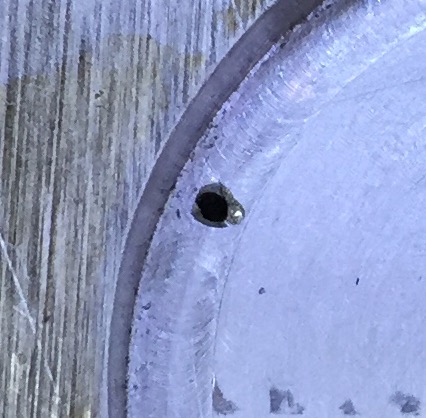 That spotting technique is cool.
My dad told me about that, once.
I believe one way was to use a wooden dowel and pollish.
How was yours done?
Nice to see that old style being used.
Really great work.
It's a wrap, it's finished, I'm done…