After reading up a bit more about techniques for carving wood, and practicing with scraps of hardwood, I had another go at the technique of carving wood with a 30° V bit. I am happier with this result as the overall appearance is not quite so amateur looking as my previous efforts.
Tooling: Amana 30° V bit #45771-K on ¼" shank
Plunge: 500mm per minute (19.68 inches per minute)
Feed: 1500 mm per minute (59.05 inches per minute)
RPM: 18,000
Pass depth: 0.2mm (0.0078")
Passes: 1
Wood: Poplar
Finish: 2000 grit random orbital sander then a single coat of walnut oil with beeswax.
If any woodworker has any suggestions for picking out the illustration while keeping well defined lines, I would be happy to take any advices offered.
Pix:
Wood is 2 pieces of 200 x 60 x 10mm of poplar which were glued together with Titebond III and then held by six clamps for 24 hours. Surface was sanded with a random orbital sander and up to 2000 grit before any carving.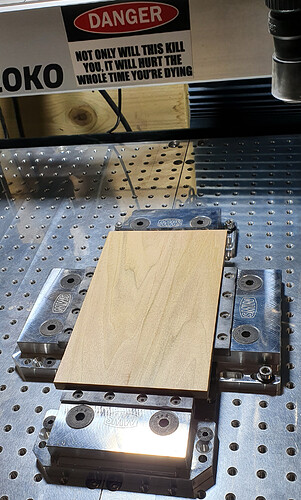 This was the basic carve which occupied 7 minutes of machine time.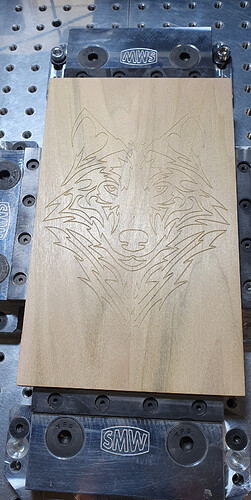 The completed carve and finish.