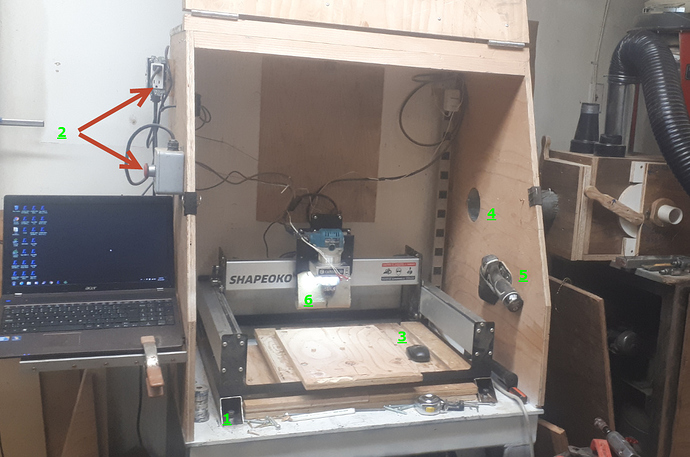 Shapeoko 3 Enclosure
#3
and list of other improvements.
#1, get rid of the plastic feet and bolt the machine down solid. I used a 2"x2" square tube and clamped the Shapeoko frame to it. I made a table from 4"x4"x¼" wall square tubing with ½" steel plate tack welded to it. It is amazingly flat after shimming and grinding. Then two layers of ¾" plywood bolted to the ½" steel plate and a t-slot waste board and ¼" NC t-nuts.
#2 E-Stop. No pins are available on this newer version of the board. So the e-stop button shuts off the power to the Shapeoko board. This stops all machine movement but not the spindle. There is a second switch below that I robbed off a table saw and it starts and stops the spindle.
#3 My t-slot waste board and ¼" NC t-nuts. I cut three inch wide strips of ¾" plywood and glued them down with 4-1/2" strips of ¾" plywood glued and bolted through everything into tapped holes in the ½" steel plate. They do not lift. I usually make fixture plates for each setup. The one in the picture uses dowel pins for realignment after flipping the parts around when the machine is too small.
#4 Dust extraction outlet. When I am machining very dusty material this can adapt to the dust boot or just be left as is. I need to add a fresh air inlet to feed fresh air into the top of the router. I can see the dust and aluminium moving in a circular pattern into the top of the router. The old sock method works a bit.
#5 Where is my impact? Always buried in a pile on the bench until now. I can change parts in a few seconds if I can find the impact.
#6 My very first improvement on my Shapeoko. A piece of leather apron zip tied in the back and wired in the front that stops most everything from getting to my z-axis belts and rollers. Aluminium was getting packed in until this happened.