I share the same concerns. The new assembly is actually closer to 2" thick when you add the plate that connects the spindle mount. It is about 1.25" thick at the bottom. So it is adding some cantilevered weight out front. And it weighs 4 pounds. I did not weight the old, but I doubt everything I removed adds up to 4 pounds. So I will be watching it pretty closely. I already ordered some eccentric spacers. I'm going to give those a go with a socket cap bolt and a lock nut to see if that makes adjusting the v-wheels easier/better. Since the SO3 extrusions only have a lip on the bottom front side, I guess if you added a rear plate it would only be able to roll along the flat of the extrusion. But that would still provide a little support for the weight by transferring some weight to the rear. You are correct in that this could be the start of a slippery slope. I'm already thinking of lifting the Y extrusions to gain more clearance and space under the gantry. But luckily this machine is a hobby in and of itself for me. I sell a few pieces here and there, so the machine has paid for itself, but I don't rely on it for steady income. So if I manage to break something I am just down until I fix it.
The top pic show the measurement from the original X plate to the edge of the new spindle plate. Just under 2".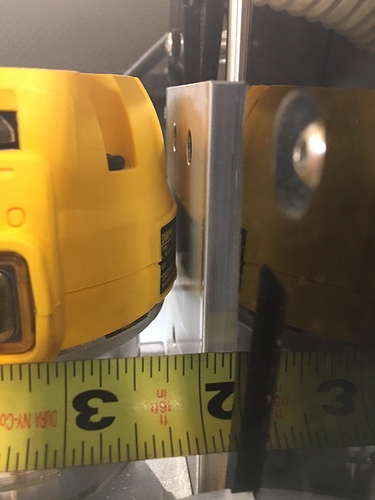 The lower pic shows the bottom measurement from the X plate out. It is 1.25".