Looking at the geometry on multiple flattening bits, it appears that it's possible to "high-center" bits that don't cut all the way to the centerline, creating a cylindrical pillar during the plunge that could get hung up when horizontal motion begins. For example, this Amana bit has such a "dead zone:"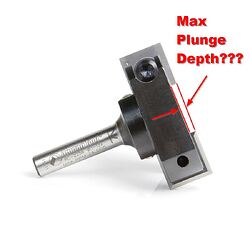 Is it the case that as long as the plunge depth for each step is less than the distance between the red lines above, all it well?
I'm sure I'm missing something here – any guidance would be appreciated.