It is said that a quick way to get a headache is to bang one's head against a brick wall. Well, I have discovered a new method - no quite a quick as the proverbial brick wall but over time the same result. If you are curious I am speaking about tramming (aligning) a Shapoko 3 spindle.
The problem is that to adjust the alignment one needs access to the 4 bolts/screws holding the spindle bracket to the moving Z plate. Unfortunately there is no way (or at least I can see no way) of accessing these screws unless the Z plate is removed from the X carriage assembly and the spindle removed from its mount.
As I understand it tramming is pretty much trial and error so the attached describes the process better than I can describe the actions required.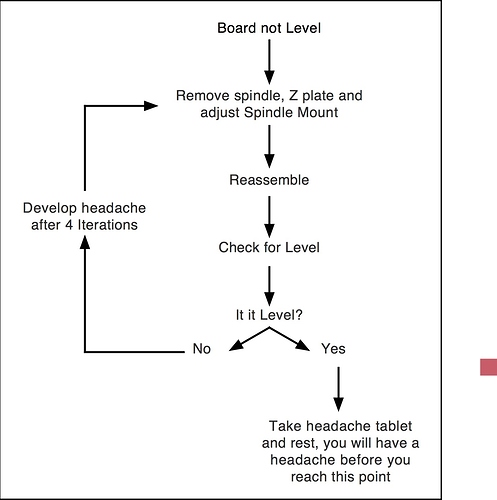 The Wiki is pretty relaxed about tramming I quote:
Tramming
One straight-forward approach is:
start to flatten the spoilboard and if I see ridges I stop and make adjustments.
start with .1 mm passes to surface the spoilboard but usually end up making adjustments enough times to end up taking about .5 mm off
If like me you have a 1" flycutter your ridges will be particularly pronounced so one needs to get the spindle almost 'bang on'. Well, I feel a lot better after that little rant but - I still have that headache.