Finally, I got around to cutting a composite block of cherry wood. It was formed using six pieces 10 x 130 x 110mm and I had glued the pieces together to create a solid block. I used standard Titebond III glue and left it to set over 24 hours. The machinability of the block was great with the standard carbide uncoated cutters (#201 & a 1mm tapered ball from SpeTool) leaving excellent finished surfaces behind them. The feeds and speeds I had used were the automatically calculated values by MeshCAM, which I had placed on trial for the last two weeks.
Not being content with trying to machine hardwood for the first time, I thought that I should also machine double-sided complex geometry to boot. The machining of the first side was great and all proceeded according to expectations. The flip side started well enough and then the workpiece split longitudinally. It was more or less along the glue line although slightly to one side. I don't believe that the glue bond gave way but more that the forces imparted by the cutter, and possibly that large opening, had created an issue which manifested as a lower resistance to deformation/breakage.
It reminds me to ask about flip jigs. I had used a datum line from the centre of the block in both X and Y directions and lined them up with similar lines on the spoilboard. Does any reader know of a flip jig that can be used with a standard SO3 or at least have an idea where I can find one that I can make from a plan.
Lessons learned: MeshCAM suggested feeds and speeds are great for single sided jobs. I should exercise more judgement about feeds and speeds when undertaking a job which is double-sided. More attention must be paid to double-sided work with regard to the stresses that the component is being placed under during milling of the second side. Pick an appropriate material for the finished component. Had I successfully finished making my cuts in the wooden version, I would have probably left it at that.
The reality is that the component should have been made from metal which means that this job will take me a little longer but eventually be finished as an aluminium component. I need to source the aluminium billet and the grade of aluminium. I am not sure about whether to choose 5083 or 6082 and I am leaning towards the T6 6082 because it is apparently much better for machining than 5083.
I have already purchased Niagara cutters that are designed for cutting Aluminium and Brass and the wood test demonstrated that my machine is cutting accurately. I will take care to start with very conservative speeds and feeds and will attempt to use my copy of Millalyzer static to inform my decisions.
Overall, this was an interesting start to understanding what Sophie is capable of doing when combined with MeshCAM, decent cutters and a carefully considered plan. As always, the image is worth 1000 words. All comments would be appreciated. Thanks to @WillAdams for drawing up the component and providing it in the STL format for MeshCAM. If @Vince.Fab has anything to add about aluminium material choices for the component (the top will mirror the curved bottom and there will be a 5mm difference at the peak of the curvature) that would also be very much appreciated.
Disaster image follows: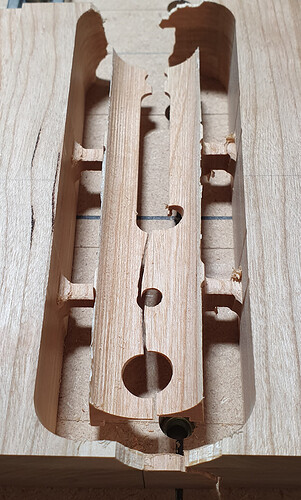 ![load|690x431]
The image as an STL file: