Hello! Long time no chat!

I'm making some fun little targets for a friend's kids bow and arrow set…super simple project. They're only about 8 inches across and on each target I'm pocketing a couple of the circles, only 1/8" deep. See my attached image. When I set up the pocketing toolpath it was saying it was going to take like 18 minutes when, based on other projects I've done it seems like this should only take a couple minutes at most.
When I look at the toolpath lines I see some short lines and dashes, and then when I run the file it "pecks" at the material a bunch of times, kinda like it's doing a v-carve, then it'll do a "normal" cut for a couple inches around, then back to pecking some more before finally making full circular passes.
So, kinda weird, and I'm hoping somebody might be able to explain what I'm doing wrong on this. I've done plenty of pocketing before, so I'm confused, haha!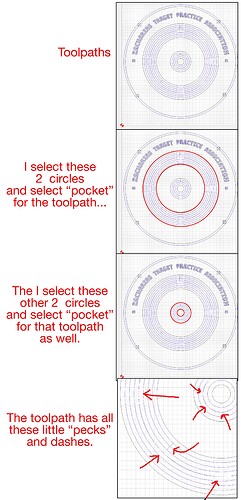 I also put up a short video clip to show what it's doing: CNC pocketing circles - YouTube
Thanks for any help!!
-seth