Will any wireless gaming controller work with CM?
What is needed to setup such a device?
Watching. I am getting awfully sick of holding my laptop in one hand while jogging with the other.
I have used a wireless Nintendo controller (something like this). You need to use 3rd party software to map the controller buttons to keys. There are lots of options out there for this and I used one called AntiMicroX.
You don't have the ability to smoothly jog with this controller as it doesn't get recognized as a joystick but it was workable. I bet there are better options but this was what I had and is worth noting that it is functional.
Thanks for the reply.
As soon as I get my controller, I'll check it out.
I only need to know if any controller will work with CM, or are there any I need to stay away from.
I would expect almost any controller would work with key mapping software but I don't know how many are natively supported by CM. The nintendo one definitely isn't.
It's not wireless, but I've been using a wired Xbox controller with no problems, or extra software to control my Shapeoko. One of my wireless controllers is bluetooth, I'll have to check it tonight.
I think I'll give this a try… Remote Pad Mac - Evgeny Cherpak $4
All I'd need is 1,2,3,4 Arrows, Page Up, Page Dn for jogging.
Maybe we can get them to Hotkey Zero X, Y, Z, All ??

Works great. 10 minutes to install & customize. You have to download an app on your PC as well to connect to it. Jogs & sets jog speed from the Jog window.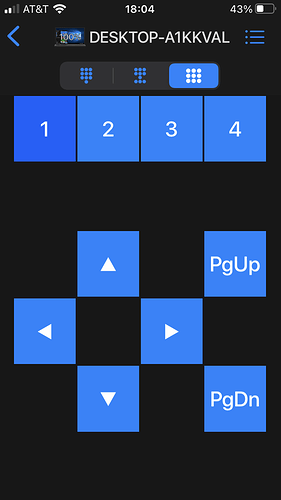 This is what I use.
Anthony
My Xbox wireless controller did connect to my RaspPi, but did not pop up in Carbide Motion. So I went back with my wired controller.
I also use the mini bluetooth keypad from Amazon works great
This topic was automatically closed 30 days after the last reply. New replies are no longer allowed.