So, I was doing an example prototype for a co-worker to show to a customer (my first "pro" job, whoo!), and… ran into something strange.
The model looks like this: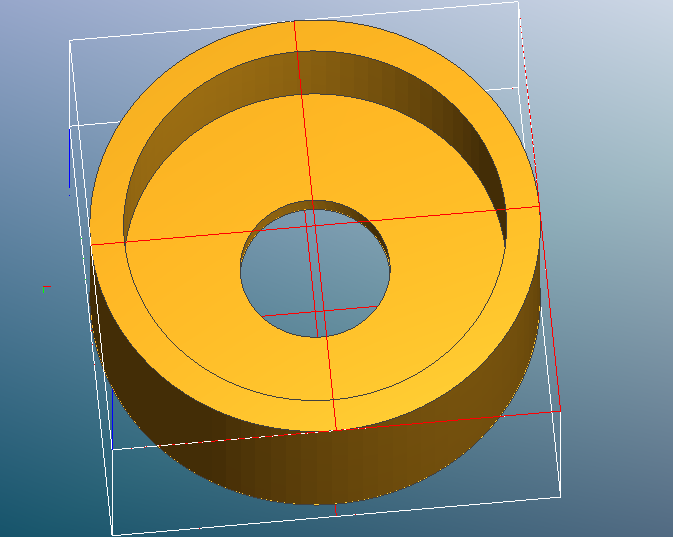 There's some details on the bottom surface that make this a two-sided job, but I never got to that point.
This is what the part looked like at the transition from the Roughing to Finishing phase: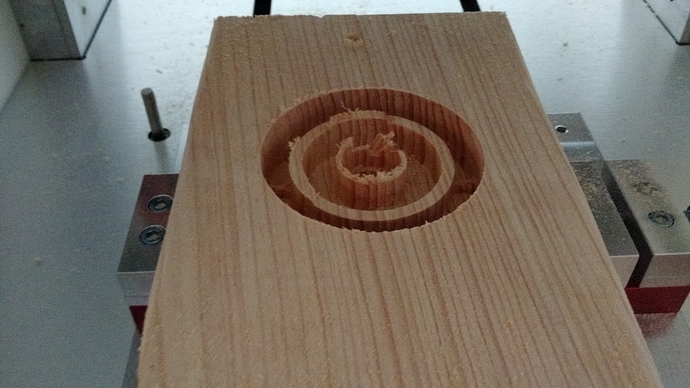 Since the shape was simple, I was running the entire cut with the .25" flat end mill, so there was no pause to change tools. But if you look closely, you can see that it was starting to do the Y-axis parallel-finishing phase. The cutter hit the center "donut" hard enough to stall the spindle and the axis motors. Going by my calipers, the "ring wall" is a little under .125" thick.
And, just to ice the cake, this happened to me twice. I re-generated the NC file from MeshCAM two different times, with slightly different feeds and speed, and both times this inner ring was left. And if I load the NC file into OpenSCAM, it also shows there (kind of – I'm not 100% on handling O-SCAM yet).
I don't think it's a problem with the original STL model, since I was able to 3D-print the same model without any issues (and actually "polished" it with the Nomad, but that's a different thread).
So, it seems obvious that this ring must have something to do with the center hole at the bottom of the model. But I'm at a loss to understand why MeshCAM would produce a path that gets everything else right but leaves this ring during the roughing phase. The outer ring looks to be the right height and thickness, and every other part of the roughing phase looks to have completed perfectly well. But that inner ring is as high as the top of the stock – it's like the NC path was avoiding it the whole time. And when the finishing pass started at the height of the outer ring… well, "crunch".
So, my questions are: what did I do wrong here, and how can I keep it from happening again?
Settings: