Just thought I would share in case someone is worried about how level their wasteboard is, or wondering how important it is to face the wasteboard to get it level. My machine is an XL.
What I did:
Mounted a dial indicator on a dial indicator holder. Removed the router from the Z plate, mag mounted the holder though the spindle mount, and put the tip of the indicator roughly where the end-mill would be. Exact placement isn't critical. I started up Carbide Motion, and jogged to the front center, and called that zero. Then I just walked the spindle around to each of the other 8 "quick position" points on the table. The indicator was on the table directly, not on the tape you see here.
I did spend some time cleaning the powder coat out of the axis mounting holes, loosening and tightening with pressure applied to make this better…but that's only good for about .010" or so. The deltas after that work are shown in the photo.
.027" .019" .022"
.025" .015" .020"
.005" .000" -.003"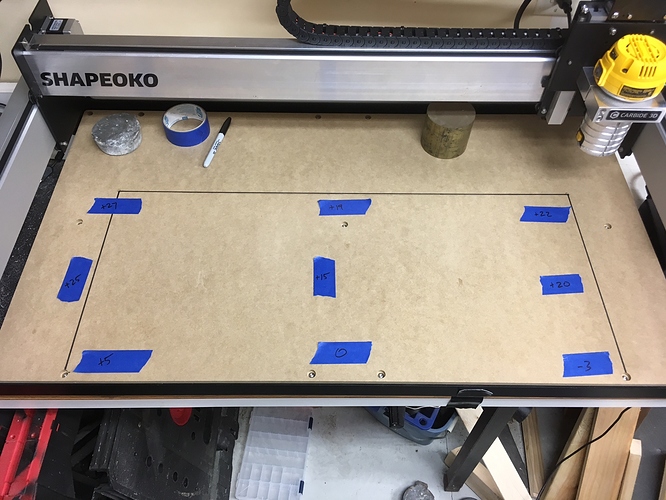 The stock wasteboard isn't super rigid - it's just fine, just expect it to move 5-10 thousandths with a couple pounds in the middle of it. The edges move less, the middle most. That does mean that if you're within about .010", it's not going to be repetitively better than that (unless of course, you build a torsion box or something like that instead)
So, with a basic build, there's about .030" between the back left and the front right corner on my machine. Maybe I'll spend some more time with it, maybe I won't. I'll be putting another 1/2" layer on top of this with some t-track, and then I'll face that to take out whatever is left.