Hello all!
New to the forum, have owned a SO3 XXL since the summer but just now really starting to try to get it up and running. Haven't made any real cuts so far other than trying to surface a couple of supplementary spoil boards.
My machine is on a homebuilt wooden workbench with a 1.5in thick MDF top. The machine is mostly square, and by that I mean one side is 1/16" off from the other (Y1 front to Y2 rear specifically), but I was told that for woodworking (guitar building, mostly), this is good enough. The machine is also as close to levelled as I can get it using the stock feet.
I trammed and squared the spindle as well as I could on the supplementary spoil board prior to surfacing it, hoping that it would then be able to tram it a second time afterwards to get it perfect.
While running a surfacing job on the spoil board to take off 3/64" hoping to level it, I noticed that the router speed "sounded" like it slightly dipped at certain points. When the job concluded, I noticed that it was at the same spot along the X axis throughout the job. I noticed that the router "sounds" like this even when not under load (running a job above the stock). I tried different endmills and the sound is still present.
On the spots where the router sounded like it ran at normal speed, the board is smooth as if the router is perfectly tram. But where the speed seemed to dip, I notice a slight ridge. Likewise, the transition when running my hand right/left or left/right feels like a slight bump as if the dark spots are slightly higher. Note the darker spots mid-right which were barely touched on this first pass. See attached picture.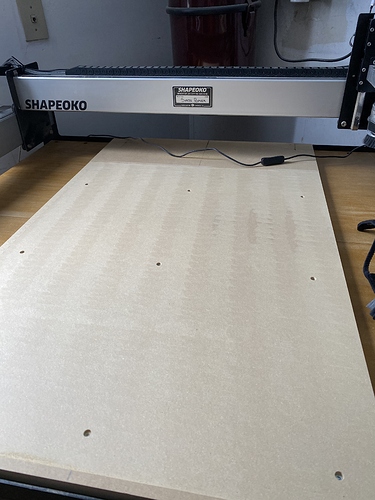 Any idea what I can do to help this? I'm very much a beginner so any help is appreciated.