I am experimenting engraving text on 6061 anodized aluminum using a 90 degree diamond drag bit. My first experiment is engraving the letter A with a height of 5mm.
I'm engraving the letter with two toolpaths - A contour to outline the letter and a pocket to fill in the inside area. What's happening is that the intersection of the horizontal and vertical parts of the letter are not being engraved. The toolpath shows these blank areas.
What do I need to do to get the entire inside of the letter engraved? Images attached.
BTW I tried using the MC Etcher 120 and it did a poor job of engraving, smearing metal on the outside of the letter.
Design


Toolpath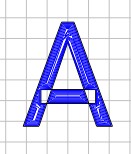 Engraving