Someone will figure out installation, the issue is posting a good How-To on YouTube.

This is what I did with the Triquetra P3 so I could easily disconnect the probe as needed. It's just a simple mono jack and plug.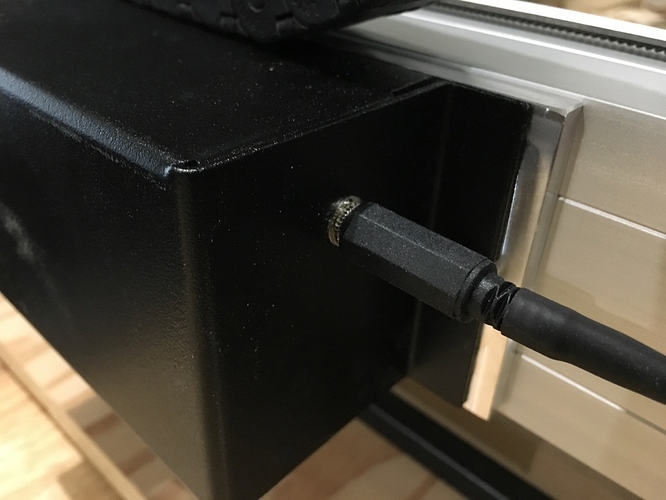 I did the same with my homemade probe. I later moved it to the front of the machine so it's easier to access before a job

Something else I discovered using the Dewalt 611. Since the spindle isn't grounded to the frame of the router, you have to attach the magnet to the collet nut or to the bit. That's not easy with a dust boot installed. What I discovered is that, if you engage the spindle lock, the spindle shaft is grounded to the router frame. Then you can touch the magnet on the side of the spindle or even the spindle mount to use the probe. Fortunately I have the EV-Guide dust boot that includes a lock lever for the spindle lock button. My next step will be to drill and tap a hole in the spindle mount and install a steel screw that I can clip the magnet to.
Any idea what the interface with the controller will be ?
Like this post if, like me, you have bookmarks to the carbide 3d blog and forum on your bookmarks or favourites bar and you check them every morning just to see if the carbide 3d touch probe has been released yet.
Figures I'm the first like!!! I not only check every morning, every hour!!!
UPDATE (SORT OF)
I went to Carbide3D yesterday and I asked about the delay (remember I said it would be released in about the lateMay/June time frame. Jorge said the delay was 2 fold, and are adding the finishing touches to the software (CM) and documentation. No, I didn't ask for an exact release time since you all know how well that went last time.
Thanks for the update! Think we all prefer for it to be a little late but performing well and well documented instead of early and buggy.
I did see that the probe option is in the Mac CM 4.0.8 now, I haven't checked the windows 4.0.7 (there is no 4.0.8 windows version on the DL site yet?), but it looks like a pretty slick interface. I don't have any idea what happens if you try it without an actual probe, but there's a sneak peek there.
I'm glad they're taking the time to get it right, rather than rushing it out. I -do- hope this isn't just a case of creeping featurism though.
@mikep You already using CM 4.0.8?. I cant seem to be able to download it. The link in version 4.0.407 doesn't do anything.
I had a look at CM 4.08 today and it looks very cool, it also looks like you can only use the CM probe with it at present. So hurry up and take my money!
It looks like you can select both the type of end mill with a selection of 6 types, 1/16, 1/8 and 1/4 both ball and flat.
You can also select which edges you want to probe, x/y/x and all three at once.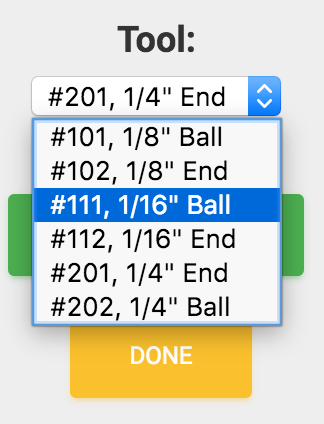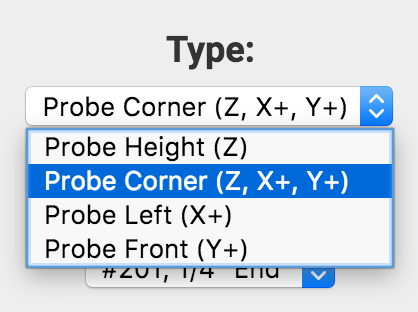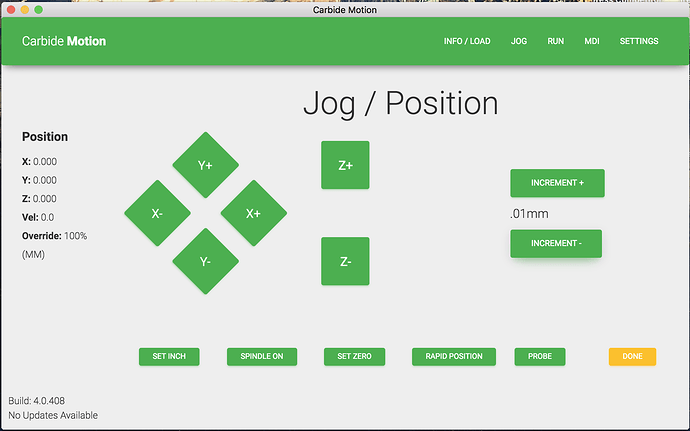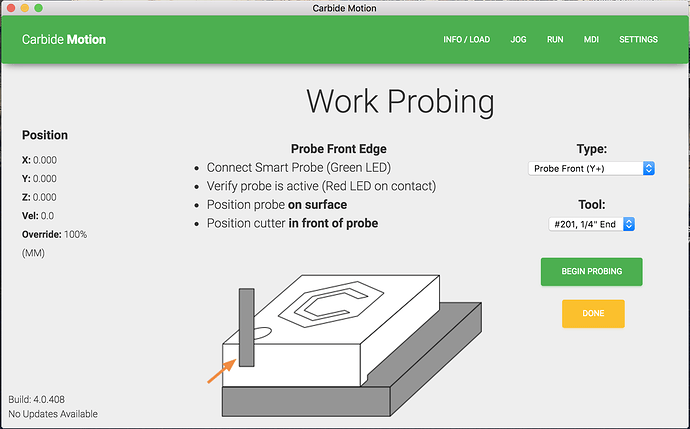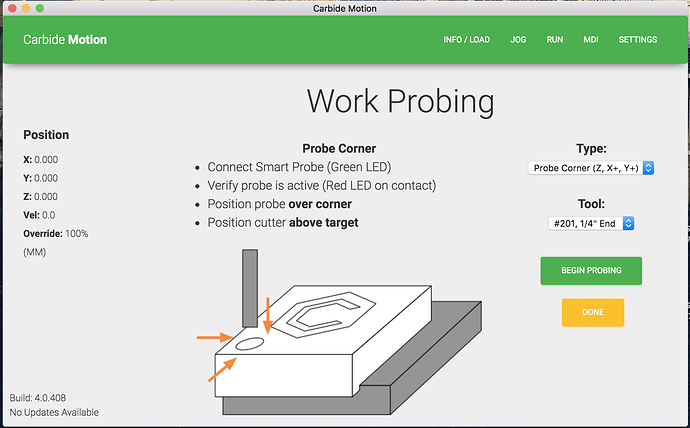 How did you get CM 4.0.8?.
I'm not sure I should publicly post the link as I don't know if it's a stable build nor can you use any of the probing tools without their new probe - but it is freely available on this site if you really, really want it…
Why should it be this difficult?. I am already using a Beta version of CC. I can't seem to be able to find it searching the forum. Maybe I can't see clearly because I'm loosing my patience. If it's already somewhere in this forum it's already public. I think I'm getting frustrated by how little information we are officially getting. I'm sorry to see that Carbide3D is missing an opportunity to create more buzz and ride a wave of excitement they started by showing us products in development. I think this is why they share this info early on. To then not continue feeding the hype builds expectations that then get dropped. I, for myself, love what they are creating and completely drank their cool-aid. I feel like in a one-sided relationship. Ultimately, I blame myself for getting too carried away with my expectations. Sorry for my rant. Vented. It's over. I'll devote my time to being productive and not complaining.
So with this probe.
Will you be able to map out parts with it?
Is that why its such a big deal, or is this the first step before that happens?
It allows you to find the datum on any part with repeatable precision - it's pretty handy.
Some of us have bought other brands, others have made our own but the current version of CM does not support probing other than individual command… which is frustrating… and why many of us are ready to make it rain to get a probe…
If this is the case, I will likely shift to EstlCAM instead. It is reasonably priced, incorporates the CAD/CAM in one tool, and the advanced features look amazing - trochidal milling, 3d probing and 3d Milling operations all built in. Seems well worth the $59.
But doesn't EstlCam require a different controller board? I don't think it works with the stock board.