After a poor engraving attempt I thought it might be a good idea to surface the waste board. Here's how it came out: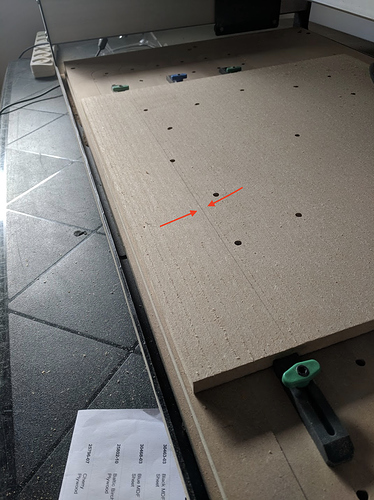 I did a facing operation in Fusion 360, using carbide3d's 1/4" end mill. It removed material in both directions. The feed rate was 1000mm/min with a 5mm step over and I took out -2mm on the Z.
First, the tool left some visible lines along its travel path. It's not uniform across the entire piece. If I feel it with my finger, the right side is more noticeable. Not sure if it's normal, but nothing a light sanding can't fix.
Second, and this is the weird part, there is a much more noticeable dip at the line I marked red. I want to say around 0.5mm at the far right and slowly getting back to normal. I was watching the machine the whole time and nothing weird seemed to happen around that time. My first thought was squareness, but why only there? Anything I need to look out for?