I was sitting around and got to talking about logic gates with my son and got the idea that I don't have enough projects to do on my list, so I jumped these coasters to the top of the list and made them with a piece of strand woven bamboo riser I bought for raw material for CNC crafts.
They are 4" square, and I - being a lazy person - decided to try something to increase my workflow. Instead of programming the gcode to cut 4 of them at once, or changing bits for each one (I am using a 1/4" end mill to cut them out, a 90deg bit for the chamfer, and a 0.0236" end mill for the text) I decided to just index the spindle 5" to the right or left after using each bit.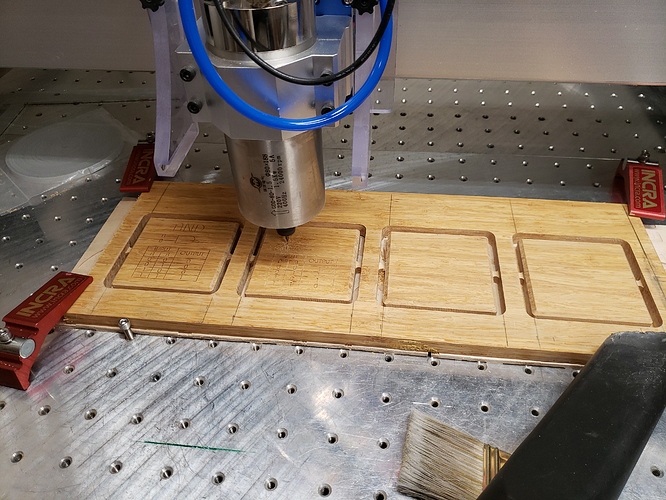 So the process went like this:
Put in the 1/4" end mill
Index X0 Y0 at the left most location.
Cut the square out
Rapid move to X0 Y0
Go to the Zero screen
Change X to -5 (inches) (since my coasters are 4" and I am using inches)
Rapid move to X0 Y0
goto

#3

(until I ran out of room)
Then I changed the bit to the chamfer bit. Did the exact same thing, except put X = +5 at step 6 instead of X = -5 and worked my way back to the left.
Then I changed the bit to the 0.0236" end mill and went back to the right again.
Made 4 coasters with three bit changes. Here's all 8 of them.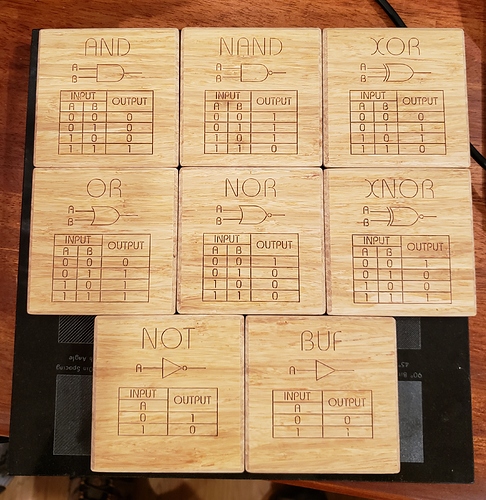 Now I just need to epoxy fill and clear coat them, then put the cork bottom on them and they are ready to go. No special reason I made them, just wanted to.