I have a photo attached of three 3x5" box lids that I applied SVG images to. The Dolphin and the Geco are good but the Dandelion with the name Ruth came out a little bit shallow, especially the Ruth text.
The #301 bit (90 degree) was used and the Carbide Create library shows the following:
#301 - 0.500 in Vee
Depth per Pass 0.151"
Stepover 0.225"
Spindle Speed 7639
Feed Rate 22.918
Plunge Rate 5.730
The above are the defaults that Carbide Create put into the library for the #301 Vee Bit
So does anyone know how Carbide Creates decides how far to plunge the Vee bit on a solid black line. Since there is no depth in the SVG image only how wide the line is. What would you recommend I change the "Depth Per Pass" setting to get a deeper text cut for "Ruth" in the picture. The Vcarving was painted with Black Acrylic Paint and then sanded. The Dolphin and the Geco are finished with Watco Danish Oil and the material is Red Oak.
Thanks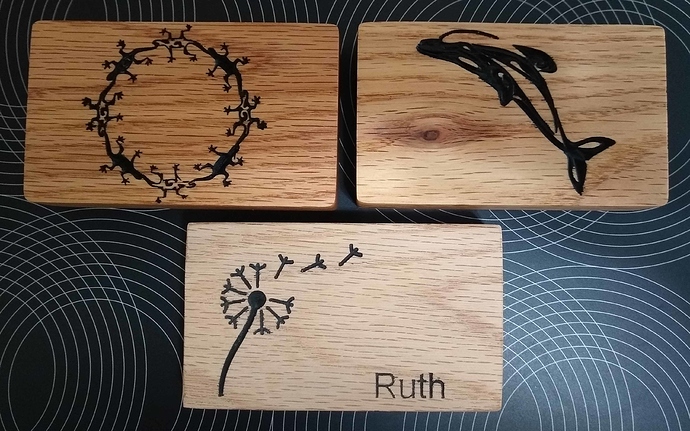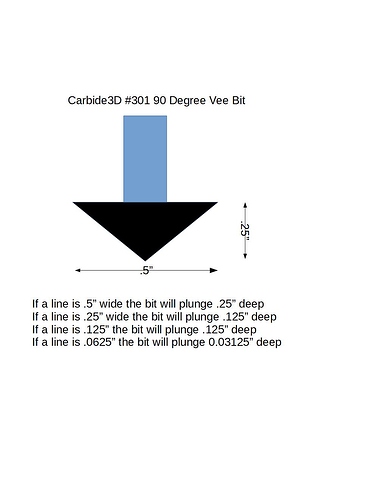 In the above image of the #301 bit is the width of the line determining the plunge of the bit?