Kinda stuck on this. I can run the spindle just fine when I set up the VFD in manual mode using the pot on the controller or the up/down arrows. When I set up the controller for using control inputs from the Carbide motion v 2.4e control board, I can't get the spindle to run.
Here are some specifics:
Huanyang HY01D511B, 110V controller with the setting per Julian's excellent instructions
1.5 kW Huanyang spindle
Carbide motion v 2.4e control board
Here is what I know:
Spindle runs fine when VFD is set up to control from the pot and I get 24,000 rpm at max speed as measured with a digital tach so my wiring from the VFD to the spindle is correct.
PWM output 0-5V is confirmed with my trusty old Fluke voltmeter.
Jumper is set to VI when I use the PWM
Here is a pic of my wiring:
PWM + to VI
PWM ground to ACM
DCM shorted to FOR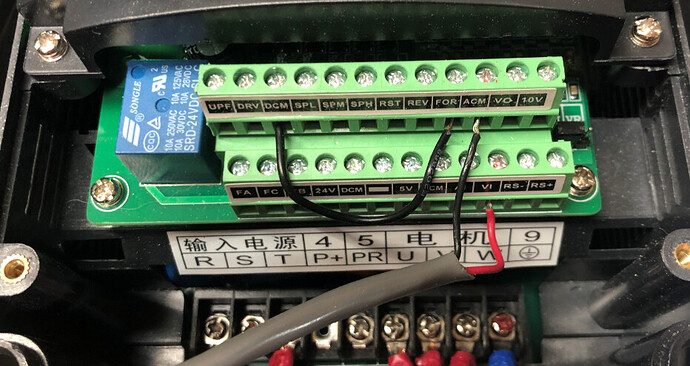 I have triple checked the VFD parameters and they match Julian's with the exception of the change to 110v for my setup.
Any ideas???