I drew a tessellated design and omitted a boundary frame because I was not sure what size to make the image in Affinity Designer. My hardwood workpiece will be 200mm square and 18mm in depth.
The first image shows what the milling intention is; using a 1 inch long 4 flute 1/16" cutter. I may yet separate the toolpaths and cut 4 separate toolpath depth cuts. So that I can rest the machine (and me) and try to look after the cutter.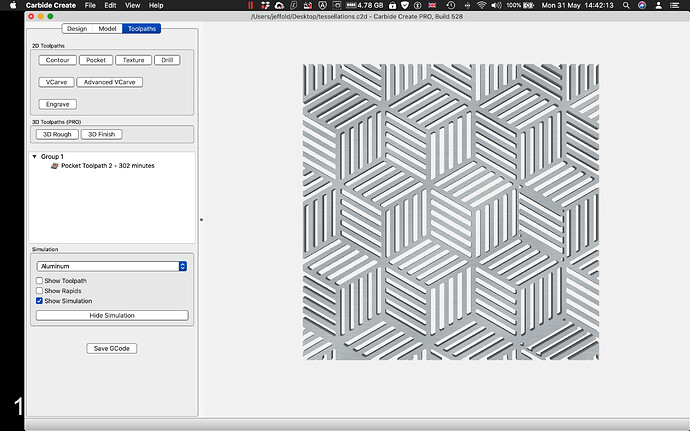 The next image shows the toolpaths which are selected for cutting. The 200mm square is denoted by the lighter area. I was hoping to put a 10mm border frame around the design so that the cutter would not cut up to the edge of the material. I tried various frames and I felt sure that the answer lay in a boolean subtraction. It did not seem to matter which item was selected first, the boolean operation removed the design. I cannot figure out what I have done wrong and would appreciate a pointer to how this issue should be solved. Thank you.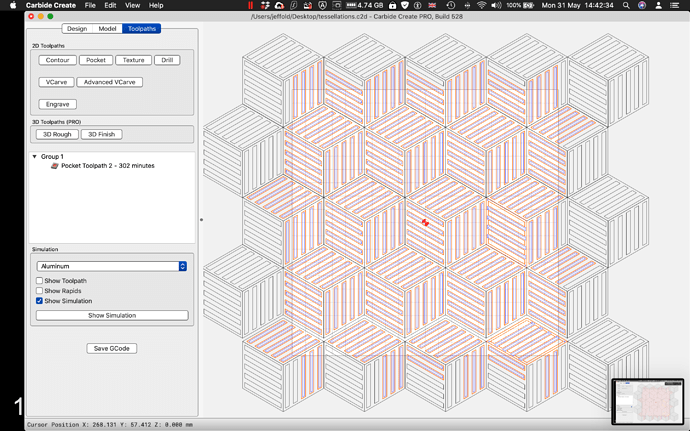 c2d file also attached.
tessellations.c2d (1.6 MB)
EDIT: I note the design mistakes, which were not there at the start so I have introduced them while specifying the toolpaths