It's a fairly simple piece, but I am happy with how clean those lines turned out.
Bolivian Rosewood, Curly Maple, Red Heart, and Mahogany.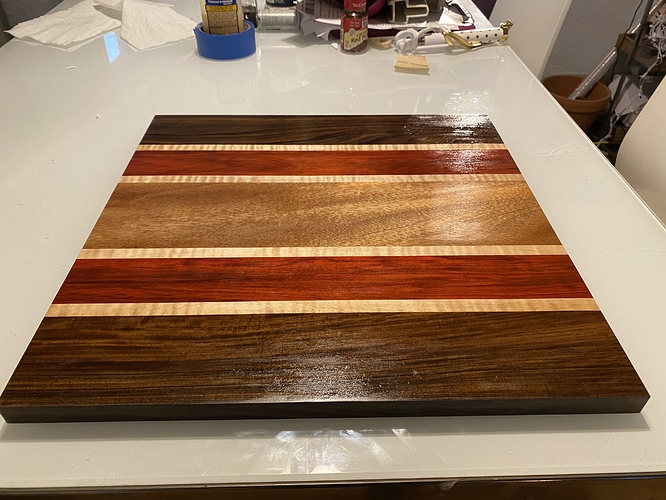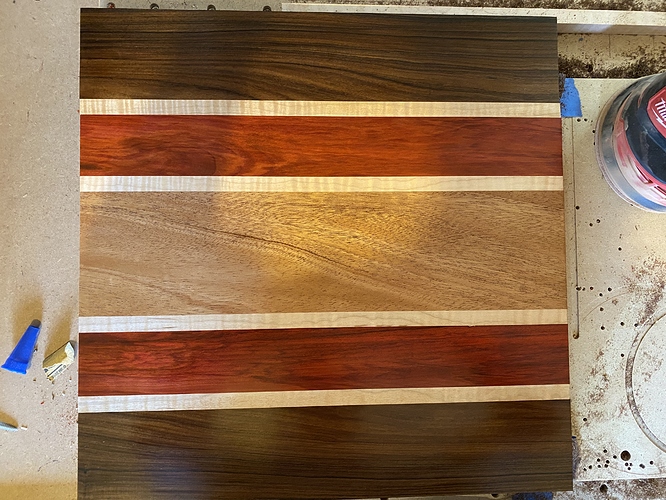 If anyone is wondering how to get those lines as clean as possible without a jointer, all I did was use my miter saw to cut the pieces down to size, leaving them ~1/8" larger than I need them. Then I secure each piece to the table, and use a profile tool path with a downcut end mill to finish those edges. Leaving 1/8" extra gives you enough wiggle room to make sure you are actually cutting all edges, while also keeping the forces to a minimum so you don't get any nasty tool deflection when doing the final cutout. Otherwise that deflection will totally be visible when doing the final glueup.
The maple pieces were so thin, however, that I couldn't properly secure them to the wasteboard, so I needed to do some old fashioned profile cuts for those with a .007" finishing pass. Those took the longest to cut, but they turned out nice and clean.
The other problem I had? Sanding the Red Heart. The red dust really wants to dye the maple. Not nearly as bad as something like Padauk, but it made getting everything sanded and shellacked a bit of a challenge!