The Shapeoko Pro is my first experience with any type of CNC, 3D printer, laser engraver, etc, so I may be making some dumb mistakes. My first attempt to cut anything out was a simple Deathly Hallows design on plywood.
Almost the entire process went smoothly until the end during the cutout. The Shapeoko started in the bottom left corner and started cutting the bottom. It did not go all the way through but I expected that since it usually made two passes for all the pockets in the design and a full cutout is even deeper. Then it started cutting the right side, but since my workpiece was a bit too small, it only skimmed the edge rather than actually cut out, which again, is fine. However, for the top, it started out looking okay but near the top left corner, the Shapeoko suddenly plunged deep into the MDF wasteboard and even hit/shaved away at the metal tracks. After I stopped the machine and removed the workpiece, I noticed that the entire top cut went through the entire piece of wood, unlike the bottom cut. The two tabs I added were also missing.
I checked to make sure my bit was tight and didn't slip and it was all the way in and was actually kind of hard to wiggle out after loosening the nut, and the router was as low as it could be in the mount so I don't think either of those could be the cause. I'm not too sure what else it could be I am not too sure if I'm making much sense but I added pictures to help clarify (as a new user I can only upload one picture so I stuck multiple together and uploaded them as one).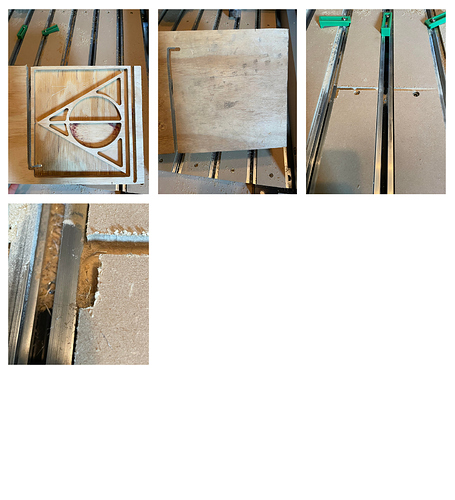 Thank you
Ali