I thought I had solved the issue of my machine randomly plunging too deep into the stock mid-job. I was having issue primarily with the 3D adaptive toolpath (I'm using Fusion 360), but I switched to a 2D adaptive and suddenly bam, no issues. I had no idea why that should make any difference at all, but I figure I'd carry on working and maybe post here about it later when I had some time.
Well, today I ran a 2D adaptive toolpath with the same model that I successfully cut less than 2 weeks ago, and the problem has reappeared.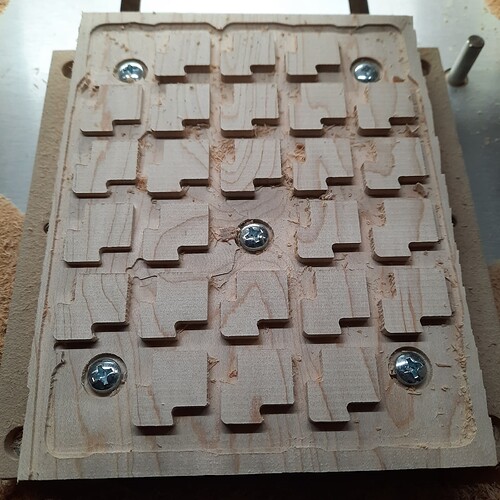 This is from the 3D toolpath I was having trouble with before, but I'm getting similar results now, only they look even MORE chaotic in terms of where it's going deeper. I'm at my wits end with this thing. I don't understand why it keeps doing this, I have no clue how to fix it or even figure out what's wrong, and support has been no help. I had a call with them, which didn't provide any insight, and haven't heard anything back in weeks. They mentioned that I might have to ship the machine back to them - I have no idea how likely this actually is to be necessary, but it's kind of my worst nightmare.
I've lubricated the z-axis, I've checked all around for anything that's loose and it's all fine, I've checked that the endmill is secure and it is, there are no obvious issues. Carbide Motion seems to think that the spindle is in the same Z position, despite the fact that it's cutting deeper into the material (I've been keeping a close eye on the z position value in CM). However, when I stop the job and check the z zero, it's exactly where it should be.
I really don't know what to do anymore. I'm trying to get a small business going and the prototyping has already been a long, exhausting process, full of setback after setback, and now I can't even rely on the machine to do the most basic cuts. I'm exhausted and fed up and I don't even know if I should contact support AGAIN because this whole thing has just been such a mess and such a headache.
Edited to add the 2D adaptive g-code file, if anyone wants to take a look at that:
Adaptive.nc (3.9 MB)