Alrighty, here's my setup I'm hoping to improve slightly.
Fulton 2-1/2" x 20' Ultra Flex Clear-Vue Heavy Duty PVC Hose
Ridgid 45L NXT Shopvac
Dustopper
I'd like to use the Fulton flex wherever I can instead of the shopvac hose, since I can cut it to length. Beyond that I'd like to use some sort of pipe for the straight run from the floor under the CNC, to the ceiling, and then the flex hose hangs down.
Home Depot sells 2" or 3" PVC pipes. I'm obviously keen on keeping the full 2.5" diameter to keep the flow rates up and reduce restrictions. Has anyone come across any adapters or setups I can copy? I tried checking Thiniverse for 3D printed adapters but their search is poor and it's a couple dozen pages of search results. Obviously the final step would be just designing all my own in CAD, but I am figuring this MUST have been done ad-nauseum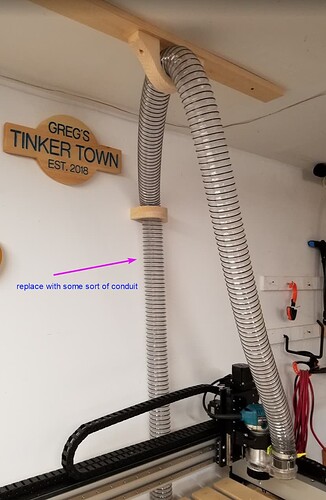 EDIT: I'd like to take a moment for a big

to the mix and match of ID/OD measurements used in the conduit/pipe/tubing world.