I'm feeling slightly heart-broken as my Shapeoko 3 just inexplicably gouged a big hole in the drill press table I just finished building. It's all part of the learning process, and I've certainly messed up plenty of projects through user error and simple trial-and-error, but this one I have no idea why the tool path is so different from the design.
All I wanted was to drill a simple 5/8" hole 1.5" straight through a drill press table that is 2 pieces of 3/4" plywood with Formice laminate on top. The day before I had used the same technique to drill a 1/2" deep circle that is 7.5" across that perfectly holds a disposable drill press backer. But with the 5/8" inside hole, for some reason the gCode started drilling a 1.25" hole. I aborted it as quickly as I could but the damage was done.

I thought I must've specified outside hole instead of inside hole (although that should've only resulted in a 1" hole instead of 1.25" with a 1/4" bit), but the path says inside hole anyway. When I look at the simulation it appears different yet, but I don't understand why. My canvas is simply 2" square with the origin in the top center. Again, the same technique worked perfectly to carve out the bigger pocket the day before.
Any help or advice I'd really appreciate.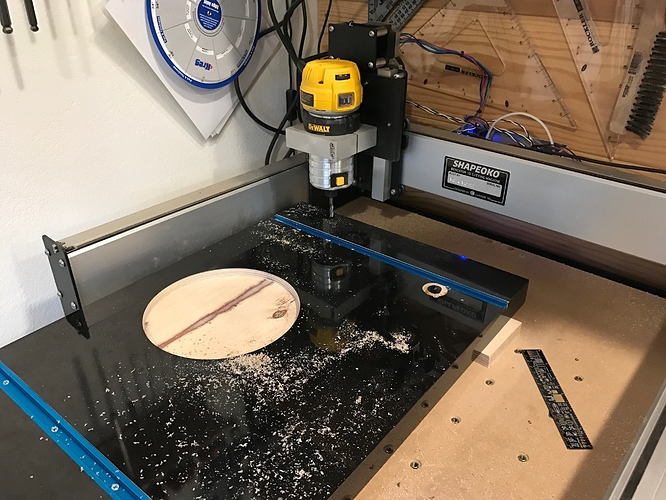 smallhole.c2d
(2.8 KB)