Hello Carbide Community,
This Nomad Noob is getting a little more savvy by the day. Current challenge: Adding new tools in Meshcam.
I'm trying to figure out what values to plug in for two new tools that I'll be using on a project under Spindle Speed and Default Toolpath Settings.
Any assistance or resources for deciphering the documentation would be greatly appreciated. The stock being milled is aluminum.
Thank you for your consideration,
Tool 1
Link to tool page with part info and speeds/feeds: http://www.harveytool.com/ToolTechInfo.aspx?ToolNumber=982150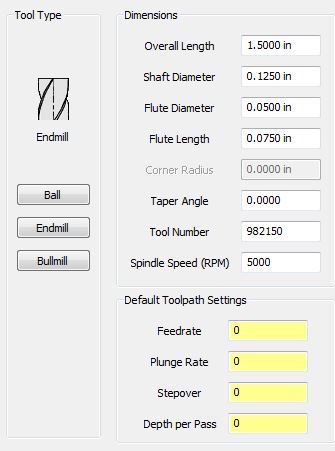 Tool 2
Link to tool page with part info and speeds/feeds: http://www.harveytool.com/ToolTechInfo.aspx?ToolNumber=941247