Follow me if you want to go down the tramming rabbit hole a little deeper than is adviseable. You need a few things to tram your spindle, and one of them is a good reference surface for your dial indicator to register against. Typically a flat spoilboard is used. How do you know the board is flat? You should probably flatten it first. A few issues I have with that.
I prefer to keep my MDF's native top surface because it resists tape and wear better
flattening takes a while and always leaves a lip along the edges you can't reach
If your tram is really bad you will leave a washboard surface which makes tramming harder
Again, that is totally legit, and I am probably just being way too particular. My solution is a glass bed. Big deal, that is a very common trick. How do you know your glass bed is parallel with your axis of travel though? If you plonk a glass bed down, and it isn't, you will tram out of square. Enter the "3 points make a plane" solution.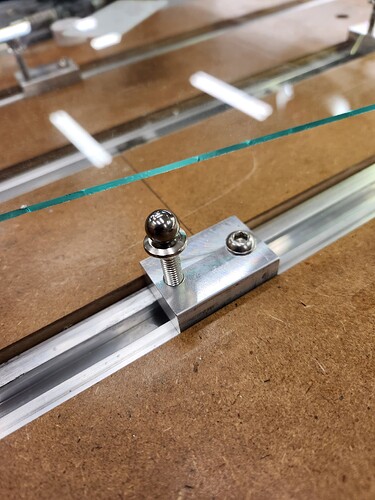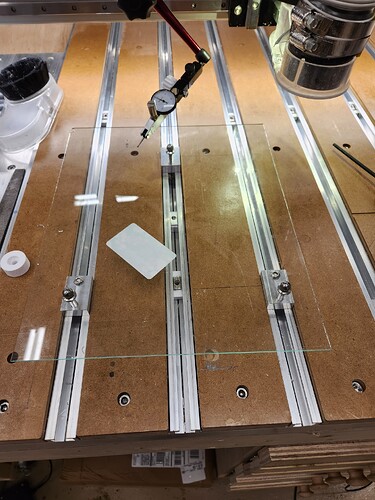 What we have here is a set of 3 blocks that clamp down firmly to the t-track. I put an M6 threaded hole in each, and used a ball bearing on top of each M6 bolt to provide a 3 point plane for my glass bed. My screws happened to have a little chamfer lead in to the hex, so the ball bearings are very stable.
To use, place the glass bed down, break out your dial indicator, and move in X between the two front points. Initially you will see a rise or fall. Adjust one screw until the dial reads flat left to right. Do the same front to back, and adjust the back screw. This gives you a reference surface that is super flat, smooth, and now guaranteed parallel to your X and Y axis.
Some lessons learned:
The M6 was a little coarse for adjusting, I might go with a finer pitch screw next time
The screw rattled and shifted a tiny bit. Some wax in the threads would help tighten that up
Having some kind of nut under the head or large thumb wheel would make reaching under and adjusting easier
I set the bed a little too high and could barely get the dial gauge on my spindle without running out of Z travel. Go low with the bed if you attempt this.
The metal blocks are optional, you could use wood with threaded inserts, thread some plastic blocks, or 3D print something. Again, this is 100% over the top, but if you love getting everything really square and aligned like I do this could provide hours of tramming torture/entertainment.