I use my Nomad 3 in a soundproof enclosure and have started looking into quiet air blast options to help with chip clearance. Size and noise are my main concerns, so I'm thinking an aquarium pump is my best bet and it looks like this works well for some people if setup correctly.
The enclosure works pretty damn well at keeping the noise down, and I'm fairly sure some of this comes down to it being almost, if not totally airtight. The only place I can think of where air could get in or out is where the cables come in (and potentially the air hose), but even that's sealed quite well. I tend to run it with the door closed for no more than 30 mins at a time, pausing during longer aluminium and brass jobs to vacuum it out and let things cool down a bit. It gets warm after much longer, but not worryingly so. It's only 150W after all.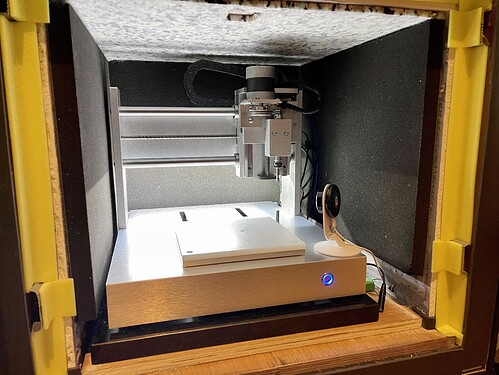 So my question is, is it going to be a problem pumping air into this thing given that there's no easy way for air to get out? I get that these pumps don't put out a lot of air, so I assume it won't turn into a pressure pot. But will it cause stress on the pump? I've got no idea about the science here!
I have read about needing a place for air to get in if using a vacuum during, and I guess the reasoning is the same. But a vacuum must move a lot more air than a little aquarium pump.
Is anyone doing anything like this?