Hi, I'm cutting an aluminum part from 6061, .063" sheet. I did several test pieces to dial in speeds/feeds/DOC, and once I got everything sorted out the results were excellent. I am cutting mostly with a 1/8" flat endmill, it's the carbide 3d #102. I ended up doing almost exactly what was recommended in the wiki – rough passes .3mm DOC, dewalt speed 1.5, 700mm/min feed, finish passes were .5mm DOC, dewalt speed 1.5, 700mm/min feed.
I need to make a bunch of these, so my next step was to make an assembly in Fusion 360 of several pieces to use a whole sheet. Cutting parameters were all the same. The results were pretty bad, I had a lot of material pulled up at the edges forming a very large burr, and the cut edges are pretty gnarly: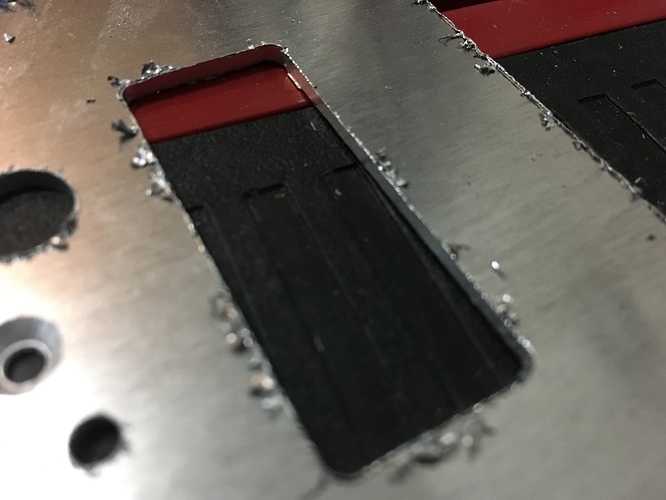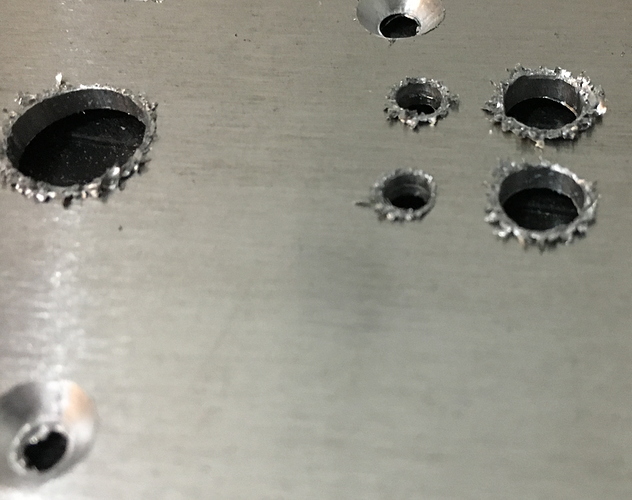 The only set up change was switching from double-sided tape to masking tape/CA glue. I made that change both for removal/clean up ease and because the double-sided tape seemed to compress a tiny bit at times. I can't imagine that would be the cause of this, if anything it was much more solid, but I guess I can't rule it out. Thought I'd see if anyone had thoughts before trying again and eating another piece of stock. Any advice would be very much appreciated!