Hello:
Serious Noob here:
I've just finished assembling a standard size Shapeoko with compact router and 3 rail hold down, thinking I've figured out tool paths and find myself all dressed up and no place to go, i.e. pretty nervous about wasting materials. The machine works as advertised, having run the Hello-world file.
My primary use for the router is to cut simple frame plates and similar parts for drones from G10 board. The G10 is 2.36mm/0.088in.
I've attached my file and an image of my hold down scheme.
What I "think" is going to happen with the file is that the router will drill a bunch of holes all the way through the G10 to a depth of 2.4mm and cut out the frame plate and lightening holes to a depth of 2.3mm, leaving about .005-6in, which will hold the pieces in place until the job is done.
The question going forward is setting up the hole tool paths. Do I interpret the selection of 'None" offset to mean the mill will go/drill straight down? I watched a video of what appears to be older CC software, which didn't have this selection and the presenter had to use a workaround of enlarging the drawing holes to .001in more than his .125 mill to be able to use an offset.
Would someone please review my file and hopefully find that it will do what I want? I'll be using recommended RPM, DOC and feed speed for G10 per the Shapeoko-materials document.
And if someone has a better hold down idea, let me know.
Thanks in advance,
Ron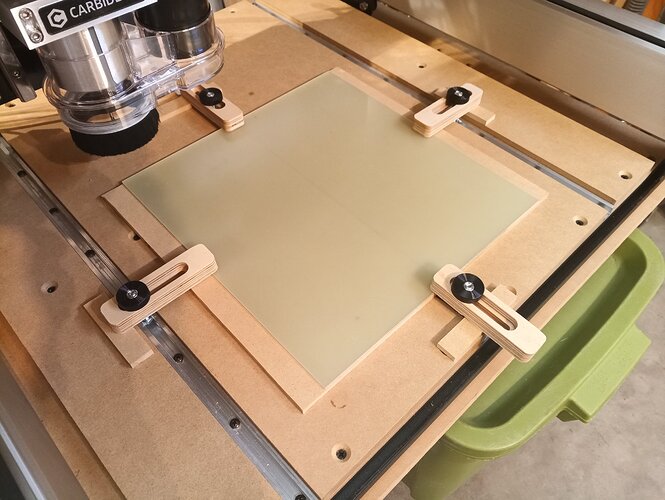 U-TOP.nc
(103.9 KB)