Pretty sure a post with this title has never existed on an internet forum before.

I keep part of my outdoor cat's food supply in a plastic jug in the front closet. He gets about half an applesauce cup's worth in the morning and at night. I had previously made a hook out of cereal box cardboard to hang the applesauce cup from the jug's handle. It was functional, but it was showing some wear, so time for an upgrade.
Last weekend, I made a new hook out of 0.115" thick polycarbonate. 1/4" carbide 2-flute upcut at 17,000 rpm, 0.070" DOC, 30 ipm feed, and 15 ipm plunge. I had tried 37 ipm at first, but that was chattery and in combination with a not-quite-tight-enough collet nut, made a boo-boo on the right side that I had to blend out later.
I managed to get a nice friction fit of the hook to the cup (no glue or anything needed). To hook or unhook from the jug, you have to rotate it clockwise from the hanging position since the width of the jug handle is wider than the throat of the hook opening, but the thickness of the handle is less (a purposeful design feature).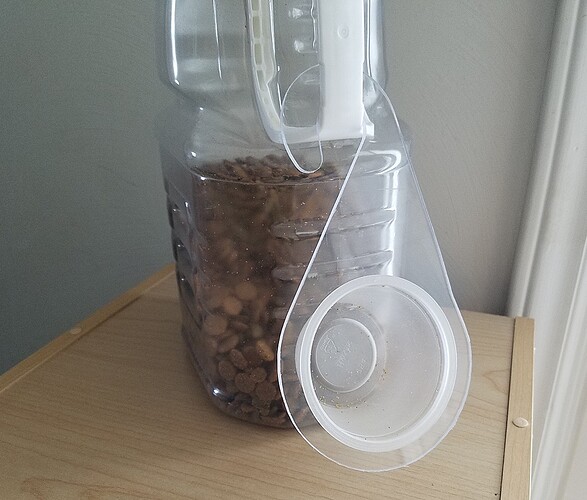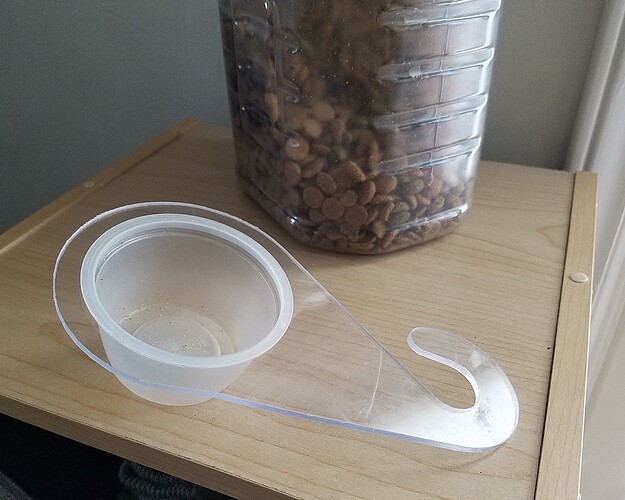 David