Hi,
I'm starting to use my Shapeoko 3 to do some engraving and I'm finding that the quality I get is not the same that I see from other users. I've tightened up my Z axis plate (which had a little play) and now it slides smoothly without any play and the quality has increased a lot but I'm still getting the following two problems. This is better explained with images: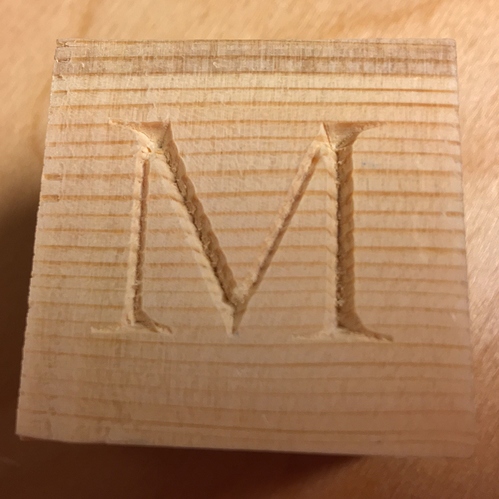 In the above image, you can see that the borders of the letters are bumpy. Almost like every time the cutter ran into the wood's grain, it shifted a little. It doesn't happen on all the cuts but it is mostly visible in the upwards diagonal cuts. Also, the bottom of the V-groove is not tidy. Some debris is left after the cut which can't be vacuumed; it's still attached to the wood.
The cutter I'm using is brand new and these two were literally the first cuts it made so I doubt it is dull. The other V bit I have shows the same kinds of cut defects so it must be either a GCode programming error or something I messed in my machine's tuning.
For the above-mentioned test, I used douglas fir 1 1/2" cubes. For software, I used Carbide Create and Carbide Motion.
Any help will be greatly appreciated.
Julian.