Hi there,
I'm looking for a holder for my brass stamp. When I purchased the Low Profile Vise I thought it will do the job, but when I got it I understand that's just wrong. So I thought I can make one by my own and my nomads help.
I made this holder out of Renshape I got with my nomad. Made holes, one for the stamp and one for the screw. And it worked! Or that what I thought!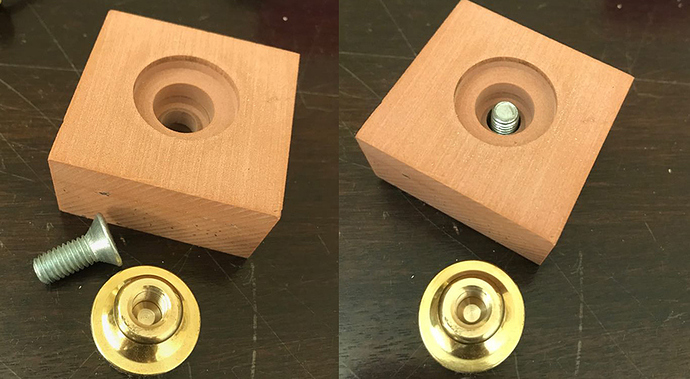 The stamp was really secured , and I put it in the Low Profile Vise. The minute the cutter start to dig in, it started to shake and got out of its place! The cutter cut very deep. I chose 0.1 mm but I think it cut about 1.5 mm in.
This how it looks like. The stamp had an engraving before. My intention was to flatten the stamp so I can worked on a new engraving. I used #102 .125" Flat Cutter. Not sure if the reason was just a wrong choice of a cutter, or is it really a wrong holder!

I'm starting a custom metal stamp engraving, and I don't have any CNC background. Before I purchased my nomad I came to you guys and asked if it's for me? And some of you encouraged me and told me: nomad is for the people like me.
But to be honest I haven't feel so disappointed and so dumb! I'm starting to think if I rushed into this!
I have hundred of questions and don't even know from where I should start.
What is the right holders for me? Is there many options?
Can I engrave something that is larger than nomad's table? how can I hold it down?
Thank you,
Nora