Hey folks, so I made a brass stamp this weekend. It was ok, just my name . The stock was a 1" length of 1 1/2" diameter round brass bar. The letters were maybe 6mm high and carved around 3 mm into the brass. I used a 3mm flat, followed by a 2mm, and 0.85mm, using face, adaptive, and contour. Then I ran a 90 dev v groove on a 2d chamfer, with the chamfer at around 0.5mm wide. It all worked and now I can use the stamp to stamp gold hot foil onto leather.
But, then I'm looking online and finding much more intricate stamps and I wonder how they are being machined.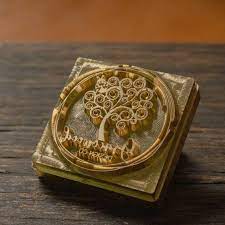 I'm actually only making a stamp for myself (would be way easier just to buy one) but now I'm intrigued about what cnc bits are used, what Toolpaths etc.
I also wondered whether they were water cut or laser cut, but generally I can see cnc Toolpaths marks on them.
Kindest
Nik